Robotic Heavy Gauge Welding
High material thickness in robotic welding automation represents a unique variety of challenges, however, Midwest Engineered Systems, a robotic systems integrator, has a history of integrating modern welding technology into production automation systems. This experience automating welding and fabricating in factory automation systems has provided us with the understanding and command over the common issues such as part variability and thermal distortion on a wide variety of applications.
Heavy Gauge Material Welding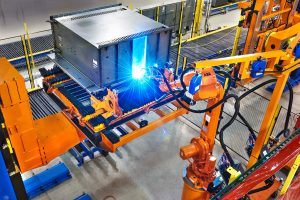 Heavy gauge sheet metal ranges from 25-gauge steel to the thickest gauge, which is known as 7-gauge, or 0.5 in/12.70 mm thick plate. Any metal thicker than 0.5 inches go beyond the gauge scale and are simply measured in millimeters or inches of thickness – these thicknesses are called 'plate' instead of sheet metal.
Demand has increased in recent years for high-strength, heavy-gauge steel. This is particularly the case for large-scale construction projects, such as high-rise buildings, large machinery and container ships. These technologies have been instrumental in the development of very heavy gauge plates such as HBLTM 385 and HBLTM 440 in the field of construction and YP460 in the shipbuilding industry. As the demand for robotic welding of ultra-heavy steel plates increases, automated welding technologies with greater efficiency levels and with high-heat input have been successful at keeping pace.
MWES has experience with many of these methods of heavy gauge steel plate welding processes using robotic automation systems. Two-electrode Electrogas Welding (EGW) is typically used for welding large components. Metal Inert Gas (MIG) or Gas Metal Arc Welding (GMAW) is an arc welding process that is used in many common welding applications. CO2 arc welding or Metal Active Gas (MAG) welding is used when deeper penetration is required in a given welding process.
We also have experience in laser hybrid welding systems that allow for single-pass welding of plates up to 20mm thick with very little heat deformation. Combining this technology with our decades of robotic systems brings automation capabilities to some of the largest welding applications including shipbuilding and pressure vessel construction and armor plating.
Advantages of Automating Heavy Gauge Welding
Decreased production time and costs: There is a precise amount of base metals during heavy gauge welding, requiring no composition adjustment of the welding wire. Having to make no adjustments during the automated welding process decreases production time and costs.
Better strength: Due to the slower speed for heavy gauge welding processes and consistent robotic control, there is an increase in durability of the welding seam with automated welding systems.
Who Needs Robotic Heavy Gauge Welding?
A number of industries and organizations use robotic integration of heavy gauge material welding for their products and projects. Some of these industries include:
Heavy-duty automotive and off-highway manufacturers
Military equipment industry
Steel pipe, vessel and high-pressure equipment manufacturers
Oil pipeline component producers
Agricultural machinery manufacturers
Have a heavy gauge welding application that could benefit from robotic integration? Contact us to explore the possibilities and opportunities available.