INNOVATION THROUGH AUTOMATION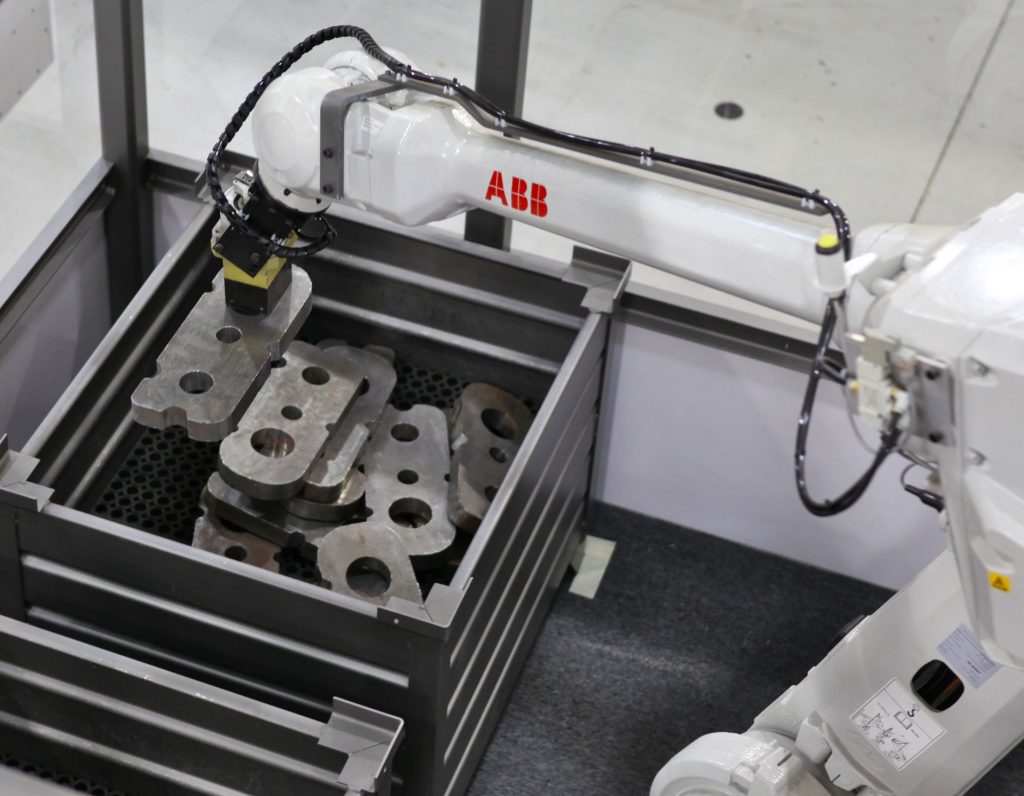 About Bin Picking Systems
Midwest Engineered Systems provides robotic random bin-picking systems to locate and separate certain parts for production purposes. The bin-picking process that MWES uses is based on: identifying the correct part, determining the location, and picking randomly placed parts from a bin using robotic automation and 3D scanning systems. Our robotic bin-picking systems are designed to distinguish parts of different shapes regardless of surface finish, shine, rust or color and can locate the top edge of the bin to adjust for bin placement variations along with alerting the operator if the bin is empty or if any foreign debris is detected in the bin.
Dynamic vision picking is a technique that enables robots to manipulate objects in unstructured environments using visual feedback. It involves using cameras and sensors to detect the position, orientation, shape, and size of the objects, and then planning and executing a motion that can grasp them without collision. Robot dynamic vision picking can be applied to various domains, such as logistics, manufacturing, agriculture, and service. It can improve the efficiency, accuracy, and flexibility of robot manipulation tasks.
Automated Random Bin Picking
With structured bin picking, the parts are ordered into predefined locations. During the unloading portion of the manufacturing process, this sort of picking is usually less costly and simpler as opposed to random bin picking.
Robotic random bin picking technology allows for containers to be bulk-filled with parts that have just cleared through manufacturing cells. This sort of bin picking technology can send bins to downstream operations, set each bin in place and thus keep the automated manufacturing running smoothly.
Robotic random picking is typically witnessed in industries that automate the manufacturing processes of stamping, creating molded plastics and in creating medical assemblies. With robotic bin-picking cells, the part to be picked by the robot must be inspected with respect to size, shape and material. Factors such as picking and placing parts have to be included in the determination of these sorts of cells. Normally, parts are picked up from a bin at a rate between 6–15 parts per minute. Randomly placed parts can be stored in a variety of bin types: trays, big wire containers or in plastic totes that can range from small to somewhat big.
3D vision systems and tools using flexible end of arm (EOAT) systems are utilized to configure a number of bin setups:
Can remove tier sheets, used to separate part layers
Able to perform accurate final part placements
Quality control capabilities for parts that are a mismatch with defined specifications
Capable of working with tall bins that must be emptied
Can discover appropriate pick patterns for bin parts that were placed randomly
Able to deal with a variety of part weights, shapes and sizes
There are a number of benefits for companies that choose to work with robotic random picking technologies. Among those benefits are:
Incredibly versatile and adaptable with regard to part shape, size and material
Cycle time is generally 4-10 seconds per bin pick
Visual scanning reduces the chance of missed picks and can determine the part orientation
Easy to work with
Increase throughput rate
Reduction in costs and an increase in facility safety
The longevity of the robotic random bin picking system can be achieved through preventative maintenance and regular inspection
Those who implement automated random picking technologies will acquire numerous advantages, including:
Reduction in repetitive motion injuries
Faster retooling to new workpieces
Increased productivity due to fast cycle times and unmanned shifts
Reduction in workplace accidents, such as falling workpieces or crushing risks
Building the future of manufacturing, together