INNOVATION THROUGH AUTOMATION
Engineering for Manufacturability
Revolutionizing manufacturing with
Over Thirty years of experience
When looking to automation for help with manufacturing, sometimes the design of the products themselves can drive automation prices higher than where they could be. Trust Midwest Engineered Systems (MWES) to be a partner in developing efficient and dependable automation systems. We can help reduce the costs associated with automation by analyzing and suggesting product and process modifications. These changes would reduce production system costs while increasing productivity and overall quality.
With more than 30 years of production system design and manufacturing, we have the experience to see where unnecessary issues may develop in moving from product design to production. With careful input from a trusted automation integrator like MWES, many of these areas can be reduced or removed without noticeable changes to functionality or design.
Our engineering for manufacturing evaluation process starts with the analysis of both the product and the current production processes. In terms of the product to be manufactured, a careful examination of its components and their interaction can yield modifications and adjustments. The results can have a great impact on production throughput. These changes usually increase the total lifetime quality of the product, as well.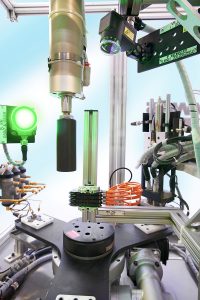 When looking closely at products in terms of producibility, sometimes even small modifications, like changing fastener styles, can improve automation performance. Reducing assembly complexity by common-sizing components or combining them into commonly used sub-assemblies when possible, provides improvements as well. Looking further, designing the product to be assembled from one direction minimizes the need for regripping the product. This also reduces potential fitment issues and the need for more fixtures than necessary. Changes like these can lower complexity levels in the automation systems required. They may even lower warranty costs and potentially increase the service life of the product.
On the process side, we look at whether the steps and their order can be modified to streamline the production of the product. Especially when considering automation, combining similar operations into one cell can save investment costs by eliminating redundant hardware. Many times, this takes a careful re-orientation of the steps to find these results. Reducing unnecessary part movements is also valuable in increasing product quality, as well as reducing automation complexity. Lowering part movements can also drop production times across the process.
Engineering for manufacturability doesn't stop with the product. It can extend into the packaging of the product. Developing both primary and secondary packaging for easier automation can save costs and time. Thinking of automation early in packaging specification reduces the complexity of collecting and combining the components and materials that go into the final packaged product. Well-designed packaging can reduce highly dexterous packaging operations and open the door for automation at the end of line operations. It could also increase the speed at which human labor can package products efficiently.
These are just some examples of where Midwest Engineered Systems can use our extensive production and automation knowledge, not only to streamline production operations but have long-term effects on your products beyond the manufacturing stages.
If you're looking at bringing a new product to market or moving a product that currently depends on manual operation, to automated production, contact us today. Our highly skilled Application Engineers can analyze your product and processes, and build a highly efficient factory automation system that is not only efficient but also cost-effective and reliable.
Building the future of manufacturing, together
How we can help your business with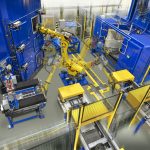 With each automation project, Midwest Engineered Systems implements a project management process that walks through the steps for successful equipment integration.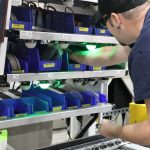 Our approach to automation process development is to first evaluate the firm's current production operation and understand the company's process needs.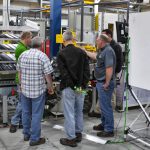 We offer the ability to experience the performance of an automation system with real parts and production conditions before significant investment in a production automation system is made.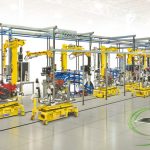 We can utilize our depth of knowledge on facility-wide automation projects to analyze the current production system to build the best automation solution.
We can help reduce the costs associated with automation by analyzing and suggesting product and process modifications.
A trusted partner in manufacturing
facility sq. feet
100,000+
RIA Robot Experts for
12 years
The Future of Manufacturing