INNOVATION THROUGH AUTOMATION
Robotic Palletizing & Depalletizing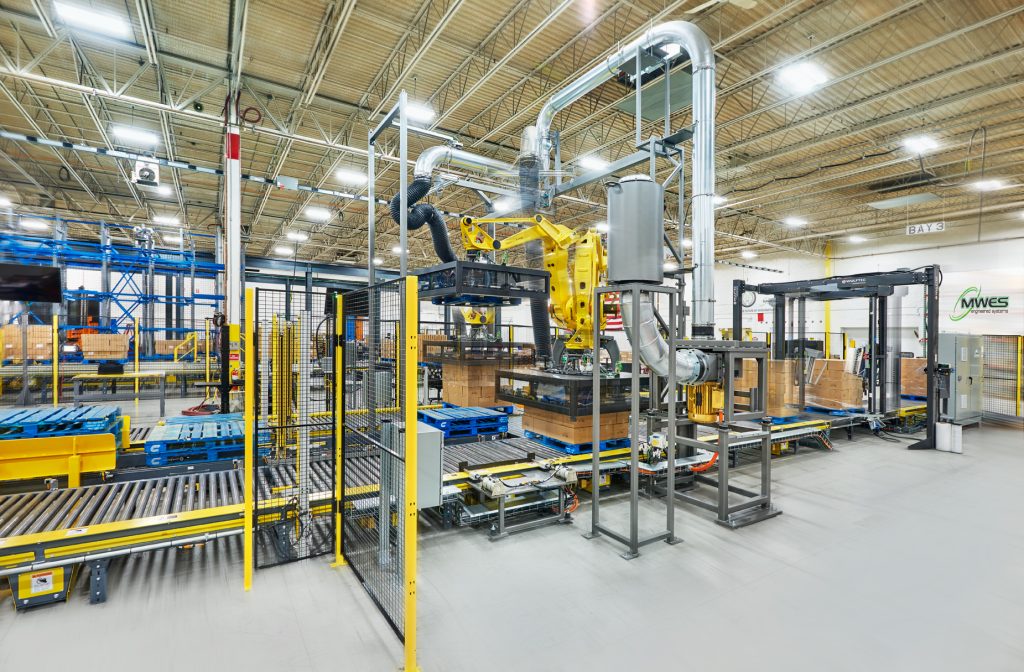 What Are Robotic Palletizing & Depalletizing Systems?
Automated or Robotic Palletizing is the process of loading objects onto pallets or onto devices that serve a palletizing function. Automation in palletizing and in depalletizing systems is becoming more common in the packing industry.
Midwest Engineered Systems utilizes highly efficient, multi-zoned vacuum grippers and advanced servo-mechanical grippers to handle a wide array of products and capacities. MWES specializes in palletizing and depalletizing systems. We configure projects specifically for your unique plant layout and production needs.
Automated Palletizing involves robots loading corrugated cartons or other industrial objects onto a pallet according to specific directives. Automated Depalletizing is the corresponding process of unloading a palletized object off the pallet in the opposite pattern. Automated palletizing solutions improve organizational efficiency and profitability. As robots do not need rest or breaks, they offer more flexible options and can continue production for much longer stretches of time with minimal periodic maintenance.
There are three main types of robotic palletizing and depalletizing systems each have its benefits and limitations. MWES specializes in all three systems, learn more about each of them below.
Automated inline systems can actively and efficiently move industrial objects like bottles to desired positions on mesh belt conveyors. Inline Palletizing uses a flow divider that continuously moves and guides objects to the appropriate sections of the layer-forming platform. These palletizing systems are calibrated to work together with conveyor systems to optimize the layer-forming process. Automated Inline Palletizing maximizes the achievable level of throughput (cases per hour), system availability and the overall utilization rate of a production line.
Layer Palletizing & Depalletizing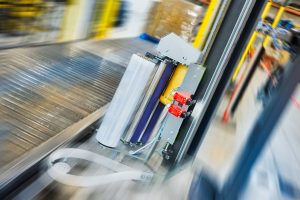 Layer Palletizing and Depalletizing systems are best suited for businesses that need to pack a wide variety of products with different measurements and requirements. A universal gripping system works with the vacuum gripper to safely and efficiently pick and move packages to desired locations during both the palletizing and depalletizing processes. The vacuum gripper can handle numerous layer pick cycles, which leads to higher pick performance levels. Benefits of this system include layer integration systems which lead to more accurate layer placements and the elimination of product drop chances due to power outages.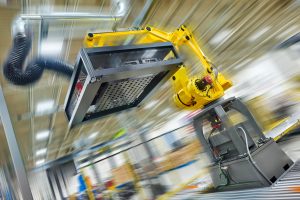 Mixed Case Palletizing is a more recent solution to several packing issues. This system optimizes the packing and palletizing of materials of different dimensions while maintaining high levels of throughput. It keeps required floor space to a minimum while improving production line utilization rate and system availability. Using jointed-arm robotics permits six degrees of freedom, alleviating the need to turn the palletizing unit through external sources. Mixed Case Palletizing is a complete palletizing solution, it can produce short cycle times and maximum packing density levels. It also standardizes the packaging process at a high level and uses servo grippers to carefully move and position materials.
The Benefits of Robotic Palletizers
Robotic palletizers are not the highly custom robotic operations of the past. Today's machines don't require large amounts of space or long periods of time to get up to production speeds. Many systems are compactly designed to be installed in pre-existing production operations. Many times, these drop-in systems take up less space than the manual processes they're replacing.
Building the future of manufacturing, together