INNOVATION THROUGH AUTOMATION
Robotic Automation Systems
Bringing process together with
Robotics and Robotic Automation Systems
Robots are the future of manufacturing
From small, stand-alone systems to large integrated processes, Midwest Engineered Systems custom designs each robotic integrated system for your specialized operational needs. MWES has designed and installed hundreds of robotic-based systems, from startup companies to Fortune 500 corporations. Integrated robotic automation systems offer many benefits for productivity, quality and safety.
Robotic automation systems can perform tasks faster, more accurately, and more consistently than human workers. This can result in higher output, lower defect rates, and a substantial return on investment (ROI). Robots can also handle hazardous or repetitive tasks that may pose risks or challenges for human workers. This can improve worker safety and satisfaction, as well as reduce labor costs and turnover. Robotic automation systems can adapt to changing demands and conditions in the manufacturing industry. This can enhance flexibility and innovation, as well as respond to customer needs and preferences.
Our design and build solutions include customized robots, specialized End-of-Arm-Tools (EOAT), cable solutions, vision systems, safety enclosures, process monitoring, control systems, and other equipment, to help you and your organization to improve your manufacturing process.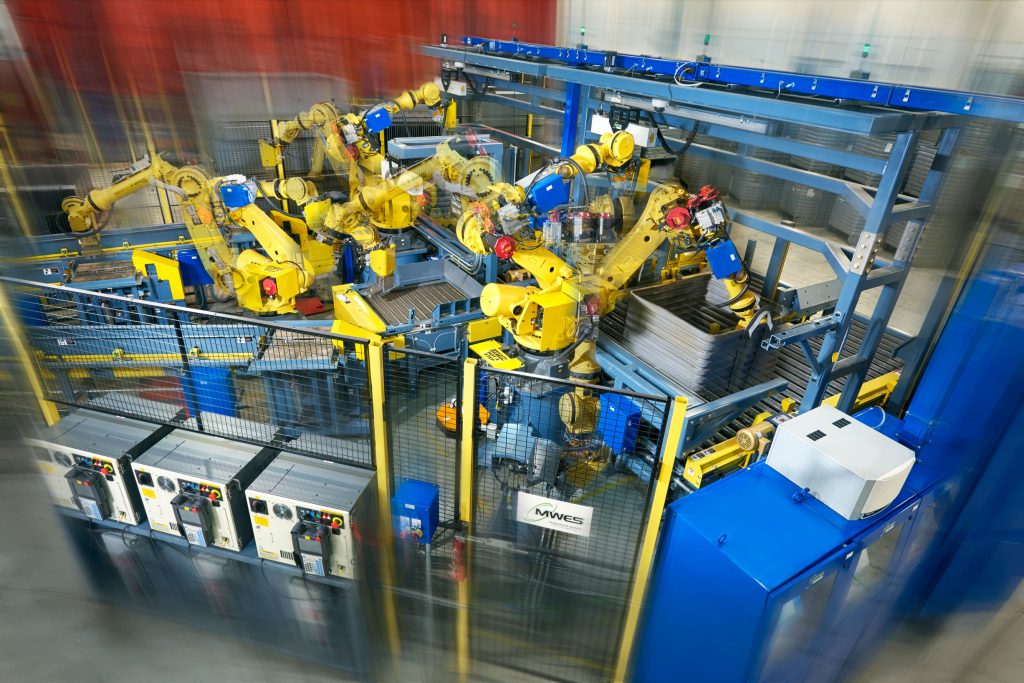 Types of Industrial Robots
When it comes to industrial robots, there are seven primary types. Each of these has its own robot joint configuration and application. Learn More…
Collaborative Robots (Cobots)
Capable of learning multiple tasks so it can assist with and work side-by-side with humans. Highly versatile and programmable.
Learn More About Collaborative Robots
Cylindrical Robots
Characterized by their rotary joint at the base and at least one prismatic joint connecting its links. They can move vertically and horizontally by sliding.
Learn More About Cylindrical Robots
Polar/Spherical Robots
Polar robots are robot configurations with a combined linear joint and two rotary joints, with an arm connected to a robotic base and a twisting joint.
Learn More About Polar Spherical Robots
Certified Robotic Integrator
MWES has decades of experience working with these robotic manufacturers.

Building the future of manufacturing, together
The Areas where we can Help
Robotic Automation expertise