INNOVATION THROUGH AUTOMATION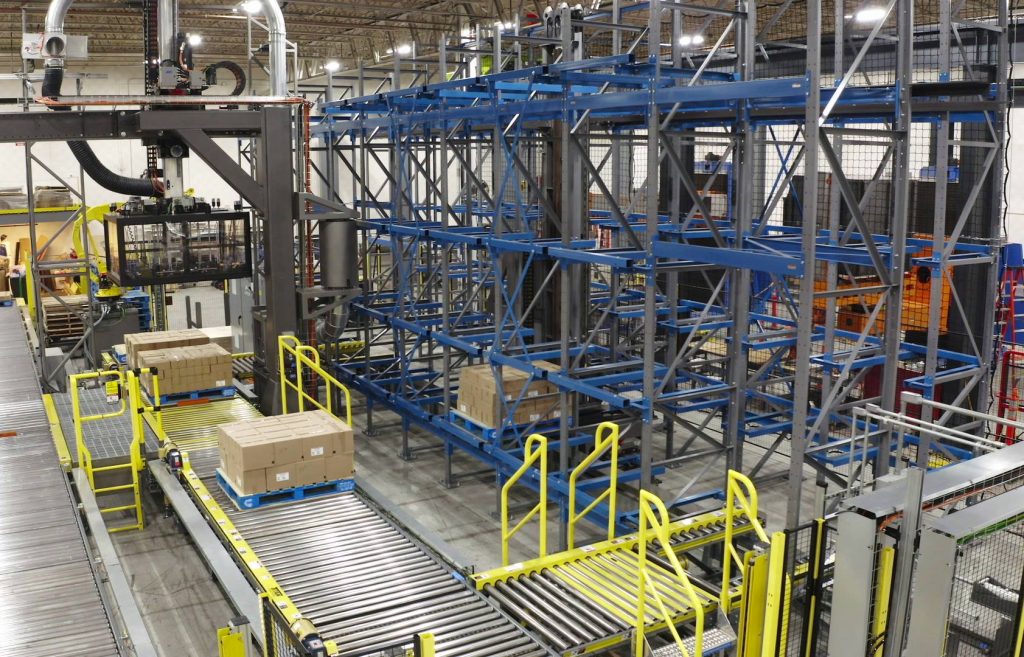 What is the AS/RS Buffer System
Leveraging technology in the largest of warehouses, MWES' Automatic Storage and Retrieval System (AS/RS) buffer system are designed to provide efficiencies for the demands of a production environment. The benefits go beyond just being a storage system, it can also become a highly efficient hub for managing the manufacturing process.
With its automated material storage and retrieval processes, the MWES AS/RS buffer system can save valuable manufacturing time and reduce production errors. The MWES AS/RS system can store materials in not only an efficient manner but also allows for production environments to quickly manage materials as needed. The system does this by cataloging materials and their locations by how they integrate into the production process. This material storage and monitoring capabilities offer a number of advantages.
Having both the tooling and materials in the same location and an overarching management system to run it, the system can become a central hub for the factory. Receiving can earmark materials upon arrival for certain jobs and send them to be immediately added to the AS/RS system.
The MWES system can manage its location and retrieve it at the touch of a button. The AS/RS system can be the go-to point to verify whether these materials are in-house and ready for production.
What the AS/RS Buffer System Can Do For You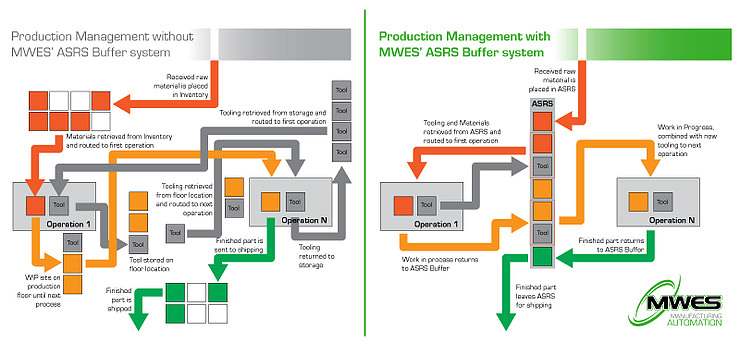 The MWES AS/RS Buffer system allows for the collation and management of asynchronous production processes. Inventory rooms can produce product-specific kitting on a schedule that's more conducive to their efficiency and load them into the AS/RS system when done.
These kits can be retrieved with the rest of the components needed for a specific production run. Allowing the AS/RS system to manage these kits' locations and when they're called, can reduce routing confusion on the floor when building products that have high part commonalities.
Our production-focused storage systems are designed from the start to fit into legacy production facilities. With its scale and operation, our AS/RS system can change how you think about not just warehousing, but production processes – and increase your throughput along the way.
The AS/RS system can be set up for operating on multiple in-and-out materials, not just consumable items. This makes it quite useful for storing fixtures and tooling for jobs in the same place as the materials and WIP needed to complete the production process.
Work in progress can be re-admitted to the system and re-combined with different tooling and fixtures necessary for the next step in the production process. The combined group would then be ready for the next process. Having virtually every aspect necessary to complete a job in the same location and easily retrievable, allows even greater efficiencies beyond saving floor space.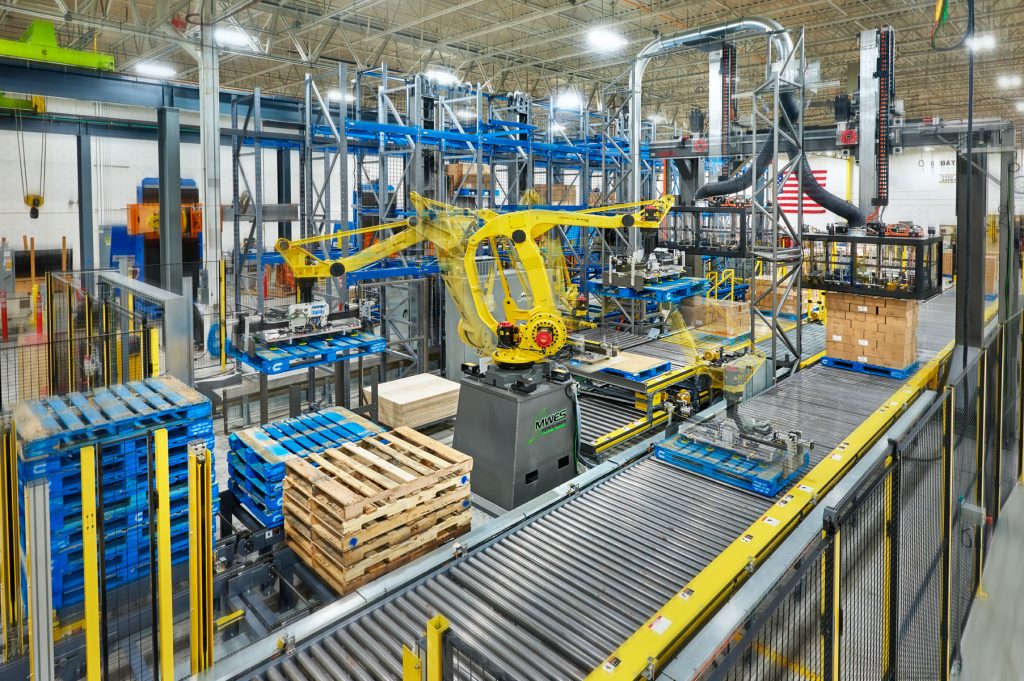 Benefits to the AS/RS Buffer System
For the longest time, the benefits of Automatic Storage and Retrieval Systems (AS/RS) have been in the sole domain of large warehousing applications, but there's a significant benefit to be had using AS/RS systems in production environments if they could be designed with manufacturing needs in mind.  MWES has done just that!
Our production-focused storage systems are designed from the start to fit into legacy production facilities. With its scale and operation, our AS/RS system can change how you think about not just warehousing but production processes – and increase your throughput along the way.
Store tooling and jigs more efficiently
No more hunting around the shop – or worse searching the stockyard – for occasionally used tooling. MWES's automated storage and retrieval system can organize seldom used but necessary jigs and fixtures in a system that makes it quick to locate and access when needed while freeing up valuable floor space when not. Square footage is highly sought after but rarely is the cubic footage of a shop considered fully.
Maximize Floor Space
With MWES's purpose-designed retrieval system, accessing materials stored at the higher levels doesn't require maneuvering large forklifts for challenging picks or relying on human operators to perform these functions. The system's compact size also reduces through-way congestion, as it doesn't rely on maneuvering large masses like fork truck bodies to pick from the highest locations. Instead, it uses its own compact shuttle system to store and retrieve materials.
Manage Work in Progress
Reduce changeover time and increase production schedule efficiencies with efficient storage and retrieval abilities. Some production steps take longer than others. That disparity may manifest from shorter turn times on one machine while parts stack up waiting for longer processes on other machines. MWES's production AS/RS system can act as a production buffer by easily storing and retrieving WIP stock.
Clear out the receiving department and stage upcoming jobs
A production-supporting automated storage and retrieval buffer system could also be used to prepare incoming jobs by staging components and tooling before work can begin. Having this organizational ability lends itself to more easily scheduling when both materials and tooling is delivered to the floor and when things should be returned.
Operating the AS/RS Buffer System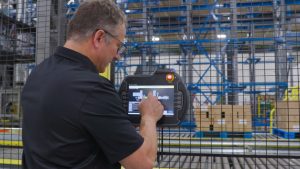 The system's operation is relatively easy to follow. An operator delivers a pallet of material to be stored to the infeed system. Then the operator selects the storage function on the HMI. From here the process is entirely automated. The AS/RS system takes into account the height of the material and determines the best location in the racking to store the material. It then summons the shuttle to pick up the material and transport it to the selected location. The retrieval operation is the reverse of storage. No need for operator input after the AS/RS picks the material.
Components of the AS/RS Buffer System
The AS/RS system comprises of four major components: the racking, shuttle, infeed and outfeed and control system. All aspects of the system are designed to be deployed within pre-existing production facilities.
Pallet Racking
The storage shelving is comprised of standardized, easily extensible racking that's been modified to operate with the AS/RS system. These racks allow material heights of 65 inches on the lower racks with a maximum height of 84 inches on the uncovered top racks delivered on standard pallets. Racks can be installed with only a few vertical shelves to installations that extend up to 30 feet tall.
Infeed and Outfeed
Getting materials into and out of the AS/RS system can be accomplished with a number of infeed and outfeed configurations, from automated conveyor lines to simple locations where a forklift can deliver a pallet onto.
The Shuttle
The shuttle is responsible for moving materials in and out of the system as well as retrieving and storing these materials in the racking. It travels on a ground-mounted track under servo power to the positions necessary. The shuttle's dimensions are noticeably more compact than similar fork trucks, allowing the system to take up less square footage.
Control System
The electronic control system is the brain of the system. Operated through a touch screen interface, the control system provides easy-to-use access to the system. An operator uses the provided HMI to summon materials from the system or command the system to store pallets for use later.
Features of the AS/RS Buffer System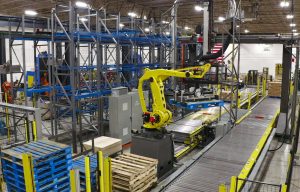 Floor space is a hot commodity in today's production settings. It also can be one of the biggest determinates of how productive a facility can be. The movement of materials and the storage of components and fixtures can be a puzzle that easily soaks up that valuable square footage if not solved properly.
But getting more control over your materials and inventory doesn't have to be difficult. MWES has worked hard to develop a system that's as easy to install and upgrade as it is to operate. Below, we've broken out some of the more innovative aspects of the system.
Ease of Operation
MWES storage systems can be operated from a touch panel on the shop floor. With a minimum of training, the easy-to-use screen design allows workers to quickly call for materials or tooling by touching through the interface. Through the same panel, workers can also add new items to the inventory and connect the materials to current or new jobs.
Safe to Use
Our system uses OSHA-approved light curtain technology to stop potentially dangerous situations from happening. When a human begins to move close enough to the machine, it automatically slows its operation. If the human continues to breach the area, the machine will immediately stop its operation and turn on warning lights. The system will not move until the human has removed themselves to a safe distance. This helps ensure the workforce stays safe throughout its operation, even when they haven't been specifically trained on the hardware.
Made for production environments
Sometimes there just isn't enough room inside production facilities to store materials, tooling or work in progress. Conventional automated storage and retrieval systems would require the acquisition of another building to house the system – one purpose-built just for the storage system. The requirements tend to drive the integration of AS/RS systems to sums that make it prohibitive for many firms whose automated storage needs aren't as tied to high storage volumes or pick speed.
Extensible: Storage capacity can be added as needs arise
Want to start with a two-shelf system but would like the option to add another level later on? Started with 20 linear feet of shelving but now need to double that capacity? Thinking of putting a second system in the outbuilding but want both systems to integrate? All of these options are what the MWES AS/RS system was designed to provide right from the start. The MWES production AS/RS system was developed to make it easy to increase its capabilities – and within pre-existing production facilities. Not only is it easy to start with a smaller system to prove its benefits, but it allows expansion without tearing the system out to put a new one in.
No specialized containers or pallets required
Most large automated storage and retrieval systems work from custom-sized cartons and bins to make the system work. Not only is there investment in the structure and the kinetics of the system, but there's also quite a bit of investment that goes into these specialized containers. Not so with the MWES AS/RS system. We've built our system to operate on standard pallets used throughout the world to ship and move products and materials. If it works with your current forklift, it should work with our storage system. And for large items, they may not even need to be placed on a pallet.
Building the future of manufacturing, together