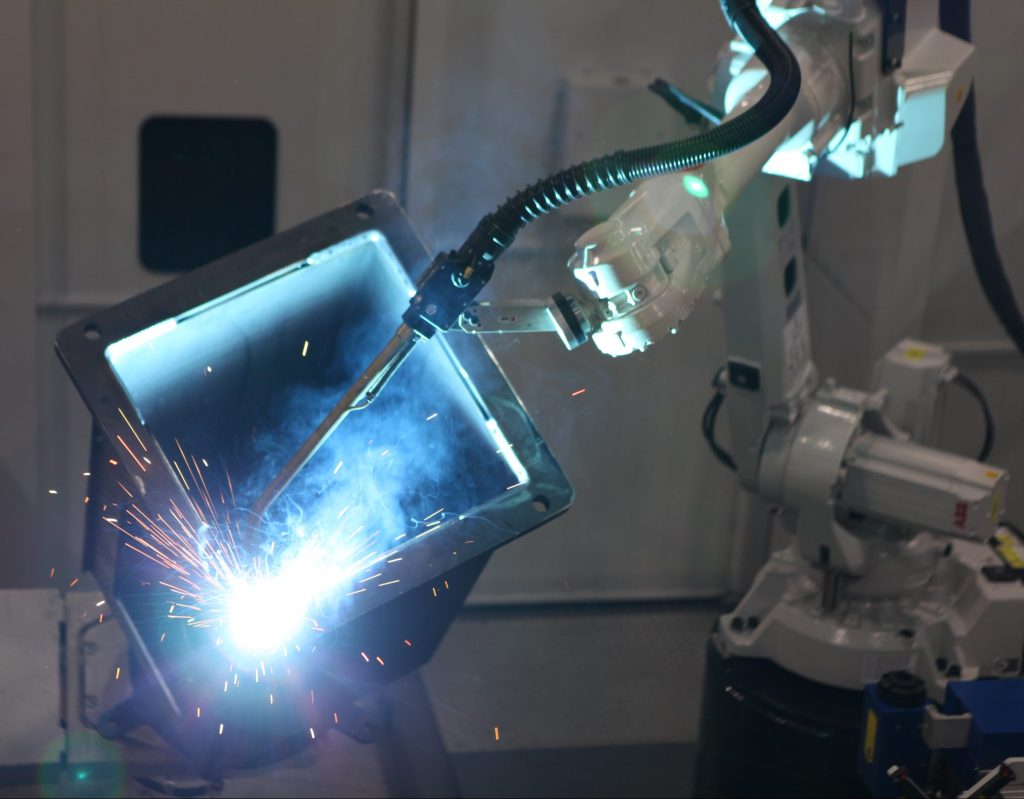 This robotic welding cell was provided to our customer, to accommodate a variety of weldments used in aerial lift platforms.
Our customer contacted us to help reduce the need for more experienced welders and their steadily increasing production volume. As an added benefit we reduced the ergonomic issues, the number of crane picks, and the overall part material handling time.
MWES included two separate robotic work cell configurations in this project. The two cell configurations were to accommodate the variety of weldment sizes, shapes and torch accessibility requirements.
The first robotic cell is an Indexing 2-Axis Positioner cell. This is known as a two-station system, with each station using a dual axis servo driven positioner. In the 2-Axis Positioner cell configuration, the majority of the equipment is mounted on a steel pallet for ease of setup.
The second robotic cell is a single station configuration using a single robot with a Floortrack and a large two-axis positioner. The robot is mounted on a servo drive track to increase its work envelope and to allow access to the weldments from various points and angles. This cell configuration is ideal for parts like the boom sections and outrigger weldments. The Skyhook Cell is a more conventional cell setup, mounting directly to the building's floor. A steel base plate has been optioned for this cell, it would accommodate the positioner and RTT unit to alleviate foundation concerns.
Safety and weld equipment make each cell a fully functional and independent unit.
These systems perform the work of two experienced welders per shift and in this two-shift operation, it saves the factory from having to find another four experienced welders.
The welding required for these parts is very difficult to access by an operator and requires the part to be reoriented a number of times to complete the welding of the assemblies. The robots provide extremely repeatable weld quality and the positioners orient the part for ideal welding conditions.
The end result of which, is increased production volume, immensely improved ergonomics, increased safety since the crane requirements are reduced to a quarter of the previous process, and higher quality welds.
Contact us to learn how Midwest Engineered Systems can automate even your most complex and challenging operations today.
Innovation Through Automation
Manufacturer of hydraulic lifting, loading and handling systems, especially known for cranes.