INNOVATION THROUGH AUTOMATION
About Industrial Robotic Painting Automation
Industrial painting automation has many benefits for different industries, such as metalwork, automotive, steel construction components and plastics. Midwest Engineered Systems has developed robotic painting systems for such industries.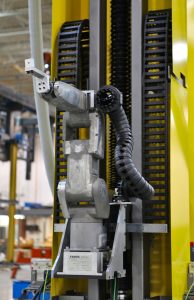 The main advantage of industrial robotic painting automation is the improvement of quality and consistency of the paint finish. Robots can perform precise and smooth motions, avoiding drips, over-spray, unevenness and defects that can occur with manual spraying. Robots can also recognize patterns, edges, sizes and shapes of the objects to be painted, using software, sensors, algorithms and cameras. This allows them to adjust the spray angle, distance, speed and pressure according to the specifications and requirements of each object.
The other advantage of robotic painting is the increase in productivity and efficiency. Robots can work faster and longer than human workers, reducing cycle times and increasing output. Robots can also work in close proximity to each other, saving space and resources. Robots can also handle different types of paint and coating materials, such as water-soluble, powder or solvent-based, without needing frequent cleaning or maintenance. Also, robots can work in hazardous environments, such as explosive or toxic atmospheres, without risking their health or lives. Robots can also reduce the amount of waste and emissions generated by the painting process, by using less paint and coating material and by minimizing overspray and spillage.
Robotic automation systems are a smart solution for industrial painting that can improve the performance and profitability of any manufacturing operation. By investing in these systems, manufacturers can achieve higher levels of cleanliness, quality, and efficiency in their production processes.
Building the future of manufacturing, together