3-Phase Transformer Cover Weld Cell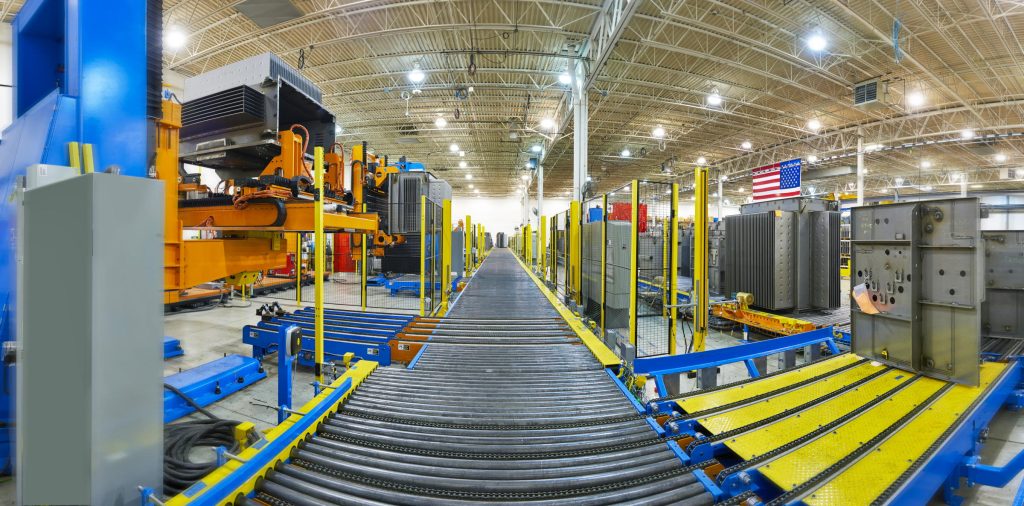 MWES designed and built a completely automated robotic weld cell whose purpose is to complete the cover welding on large transformers.
Repetitive assembly line welding can be labor-intensive and potentially create inconsistent results when done with human labor. A firm came to MWES looking to robotically automate the process of welding the top cover onto large 3-phase 1,000-3,750 KVA transformers.  The welding operation had to be done quickly and efficiently with a great deal of consistency.
MWES designed and built a completely automated robotic weld cell whose purpose is to complete the cover welding on large 3-phase transformers.  The welding cell uses an ABB IRB4600 industrial robot mounted on a riser, that has a reach of 2.5 meters.  That reach would allow the robot to perform all the welding operations on the transformer from a stationary position, while the transformer remains on the conveyor.
The welding cell would begin when the transformer moves on the conveyor from the previous station in the fabrication process.  The transformer arrives from a manual tack station adjacent to the robotic weld cell.  After completing operations at the tack station, the operator would press an operator-ready button signaling the PLC conveyor that the part is ready to move to the weld station.  The robot would then choose the correct weld torch required for the particular transformer assembly.  Typically, the robot will use a Fronius TPS 5000 weld package with two-wire feeders for handling both mild steel and stainless steel.
As the transformer conveys into the weld cell, sensors indicate its presence.  The conveyor system along with a light curtain centers the transformer in front of the robot within a margin of 1-2 inches.  The weld cycle begins running the parametric program and weld routines.  The laser-based seam finder searches the transformer and adjusts the program as required.  Upon completion, the conveyor system transfers the completed weldment from the cell.  Torch maintenance routines are run during the operation of the weld programs at predetermined points.
With a cycle time of around 25 minutes per part, the transformer cover weld cell MWES supplied to this firm afforded them a streamlined welding operation that improved the overall throughput and quality.
Midwest Engineered Systems has a wide range of experience in building robotically automated weld cells. If you're looking to improve your welding throughput, we have the knowledge and experience to make the project a success.
Contact us to learn how Midwest Engineered Systems can automate even your most complex and challenging operations today!
Innovation Through Automation
A manufacturer of large industrial power transformers.