Skylift 3-Axis Welding Positioner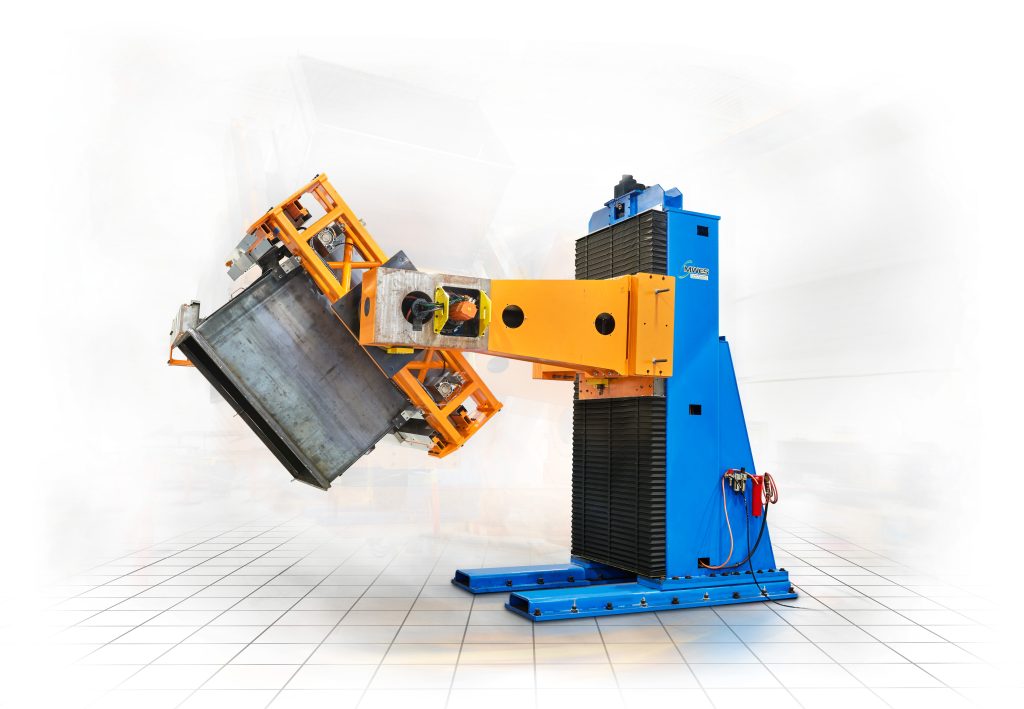 This project consists of an MWES standard robotic welding positioner and an end-effector for our customer's product.
Our customer had a large part weighing 600-1,000 lbs. with multiple sizes and needed a common device to pick it up and orient the part without a crane.
MWES' design for this customer included a number of hardware and services that include a Skylift positioner and fixturing.
MWES 3-Axis Skylift Servo Positioners:
8,000 lb. capacity on the mounting platter prior to tooling
The platter axis has 360 degrees of rotation
The arm axis has 180 degrees of rotation
Servo vertical lift via a ball screw
The lift axis is estimated at roughly a 60-inch travel
Arm and platter axes are designed to be an external axis of the robot, which allows true coordinated motion with the robot
Ground cable along with other required cables, tubing, etc. are routed through the center of the rotational axes
Custom-engineered fixturing for support of multiple SKUs:
Two hydraulically actuated grippers
10 inches of travel
Hydraulic power unit (HPU) and hydraulic hose
Control of pump motor
MWES provided a number of part manipulator systems that accommodated both the operator for assembly functions and the robot for finish welding of large heavy components with no need for a crane. 
By eliminating the crane, the material handling time was cut in half and the safety of the overall system was increased to an operation that did not require certification for hoists, swinging mass, or operators to control and verify the safety during the positioning activities.
Midwest Engineered Systems has a wide range of experience in welding positioner systems. If you're looking to improve your welding throughput, we have the knowledge and experience to make the project a success.
Contact us to learn how Midwest Engineered Systems can automate even your most complex and challenging operations today!
Innovation Through Automation
A dumpster rental company.