Innovative Automation for the Most Challenging Processes
As a leading multi-vendor automation system integrator, Midwest Engineered Systems (MWES) provides unique solutions for a variety of industries. These solutions range from standalone automation work cells to complete factory automation systems.
MWES's strengths lie in understanding the intricacies of the industries we specialize in and being highly skilled in the application of integrated control systems, machine vision and robotic system deployment.
With our deep knowledge and broad experience, we have found great success in solving the most difficult production automation projects in a variety of industries – and we're always ready to tackle a new industry!
Aerospace & Defense
From high-precision automated manufacturing systems for high-performance power system assembly to building aircraft components, MWES has the experience necessary to design and implement complex and precise production automation systems to meet the challenging demands of the aerospace and defense industries, as well as the knowledge in advanced technologies like collaborative robotics or machine vision and inspection systems that can take current processes to even greater performance all within an ITAR compliant environment.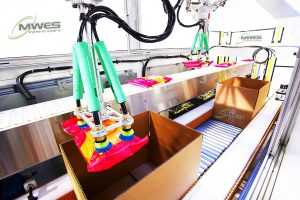 At virtually every stage of the food manufacturing process, MWES has experience automating the complex and specialized tasks that go into creating an efficient food production system. From building specialized machines to help in the processing of food materials to standardized systems that can fill, sort and monitor packaging, we have the depth of experience and knowledge needed to reduce reliance on labor and increase throughput for even the most complex food production processes.
MWES offers a broad array of standardized systems to automate the logistics of operating a production facility. As system integrators, we also have the experience and knowledge to develop custom solutions that will solve even the most challenging conditions. Our packaging, palletizing, depalletizing, AS/RS systems and other unique solutions are designed to offer the performance needed to continue being competitive in virtually any industry.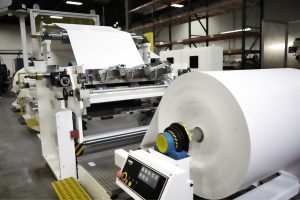 MWES is known for providing roll handling automation solutions that improve plant productivity and increase employee safety. Applying carefully designed automation systems to the movement of paper rolls and other substrate rolls can greatly increase the speed and efficiency of a production plant. MWES can take your process even further by integrating machine automation processes into roll handling and material-handling projects like machine vision, palletizing, or automated guided vehicles (AGVs)
Building large machines require automation system integrators with experience in working at scale. MWES has a history of building automated assembly lines for construction, railroad and other low volumes, high mix markets at the scale the off-highway industry demands. These installations can be single work cells performing specialized tasks to multi-process integrated systems that include automated welding, painting, or assembly systems, machine vision-enabled robotics integration that can identify parts or check their quality – all at a size necessary for the construction equipment industry.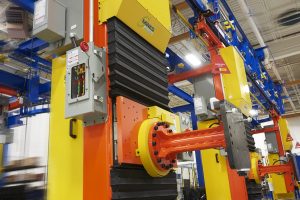 Drive train systems need to be dependable throughout the harsh conditions these transmissions, transaxles, switchgear, or differentials operate in. To achieve that dependability, a quality-driven manufacturing process has to be in place. MWES is known for producing automated assembly systems for the off-highway drive train market. Either complete automated production systems with a variety of integrated operations or the design and manufacture of specialized production cells to augment and expand current production lines, we can be relied upon to design and build the most efficient and reliable factory automation system that has the specific needs of the drive train industry at their forefront.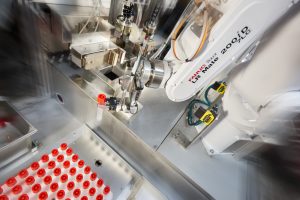 MWES has a variety of experience helping the healthcare product manufacturing industry whether through stand-alone process cells or entire production settings. Our knowledge base extends across a variety of methods from high precision, high-speed manufacturing processes that hold the highest tolerances and quality to handling the packaging and material handling aspects in an automated fashion that increases throughput while reducing routing and shipping issues.
​If your processes rely on manual steps performed by a predominately human workforce, MWES can help streamline these through a variety of avenues, from assessing and upgrading individual work cells for better ergonomics and performance to complete manufacturing process development at a facility scale.
Whether it's the need for robotic tending machines to be used where human safety is too much of a concern, the desire to provide automating secondary machining and finishing processes, or the need to safely move large components, MWES has experience translating foundry production processes into automated systems that provide reliability where it's needed regardless of the environment.
Electronics Assembly
Complex and intricate fabrication and assembly processes that need to be executed flawlessly and repeatedly – most times at high rates of speed. These are the electronics assembly integration challenges that MWES has come to excel at. We can leverage some of today's most advanced technologies like machine vision and robotic integration along with tried and true automation system strategies to create work cells or entire production automation systems.
Contact us to see how we can more reliably and efficiently automate your process.