INNOVATION THROUGH AUTOMATION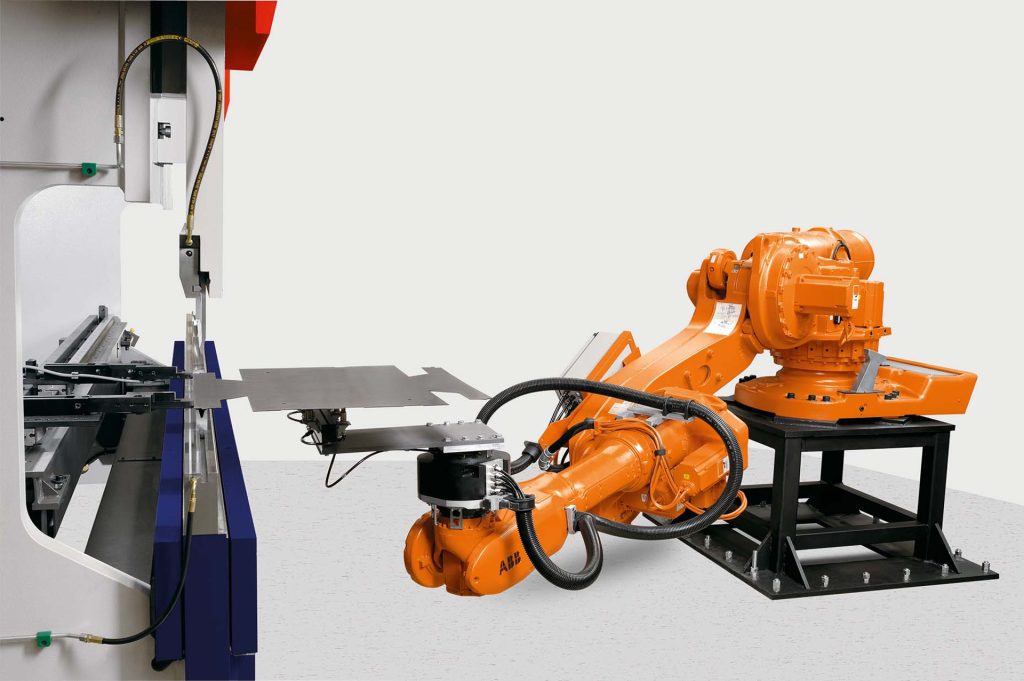 About Robotic Press Brake Automation Systems
Robotic press brake automation systems offer increased productivity for metal fabricators. Press brake automation systems use robots to perform bending operations on the metal sheet using press brake machines. These machines apply force to bend metal along a predetermined axis. Robots can increase the productivity, accuracy, and safety of press brake operations by reducing manual labor and thus human error.
High-volume jobs that dominate one press brake or one operator
Highly repetitive tasks not suitable for manual labor
Low-volume jobs that are reoccurring
Large parts that are difficult to handle or may take more than one operator
There are different types of robotic press brake automation systems depending on the size, shape and complexity of the parts to be bent. Some systems use standard robot arms that are integrated with existing stand-alone press brakes. These systems require offline programming and simulation to create the bend and robot programs. Other systems use robots that are designed specifically for bending and can reach in and around the tool zone to form small and intricate parts. These systems have press brakes with large open heights and can operate with minimal setup time.
Robotic press brake automation systems can offer significant benefits for manufacturers who need to produce high-quality metal parts with low per-piece costs. Bending robot systems are not only for repetitive jobs but can easily be programmed with the use of offline programming tools for short-run applications to decrease turn-around times while delivering excellent quality.
Midwest Engineered Systems custom engineers robotic solutions to work with your press brake throughout the metal bending process. Robots are programmed for proper placement and holding power to increase the quality of each part.
Building the future of manufacturing, together