INNOVATION THROUGH AUTOMATION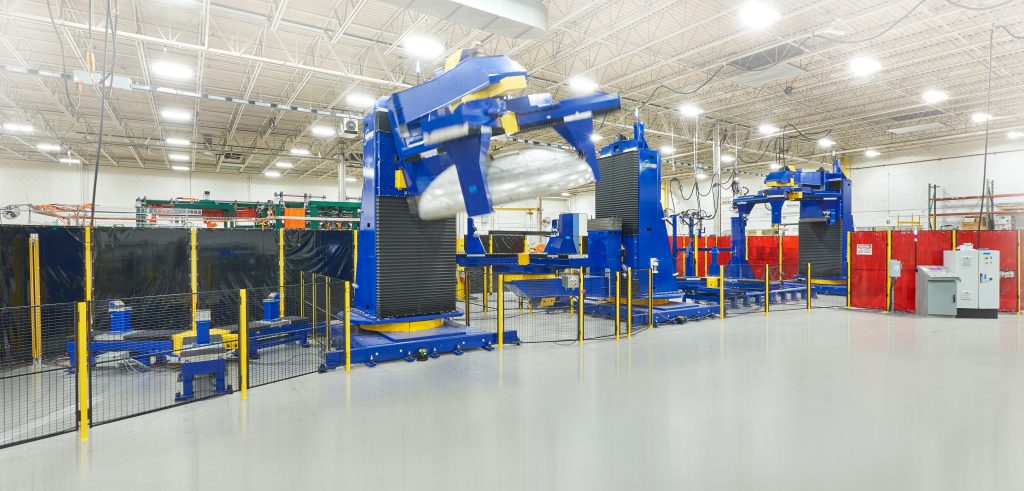 About the Custom Weld System
At Midwest Engineered Systems, our team of welding automation specialists has more than 30 years of experience. Our expertise and skills lie in welding design, development, and programming, and we call on these abilities when creating our custom cutting-edge weld cells. We construct our custom weld cells for a variety of industrial welding applications which provides us with the knowledge and experience to apply to a solution that is right for all of the very different welding requirements of our customers. As such, we continuously strive to develop our approaches to automated welding in order to better accommodate customers from all industries.
Advantages of robotic welding
Transitioning to automated welding from manual processes has several advantages. Automated robotic welding is much more efficient and generally much more consistent than manual welding. Manual welding has traditionally required the training of skilled technicians as well as the technicians' ability to consistently produce quality welds. However, with automated welding options that are customized to your exact production needs, you can rely on machine technology to produce a consistent product and eliminate the inconsistencies of manual welding.
MWES Custom Designed Weld Cell Projects
Learn more about our welding process and possibilities for custom designed weld cells by viewing the featured projects below:
Robotic Welding & Positioner System
MWES was asked to design a robotic welding solution that would be integrated into a conveyance system that automatically removes tack-welded pieces from the conveyor. 
Pressure Vessel Head Welding Cell
MWES provided this customer with an automated head assembly cell. The head automation cell consists of both manual work stations and a robotic welding work station.
Concrete Mixer Drum Welding Cell
MWES provided this truck manufacturer with automation equipment to robotically weld booster cone sub-assemblies. The sub-assemblies were to be welded using Lincoln weld equipment and positioned by MWES Skyhook Positioners.
Automated 3-Piece Pipe Weld Cell
This firm wanted to utilize robotic automation to free them from the uncertainty of consistently having enough skilled workers on their staff, in order to keep their welding throughput moving forward.
Our Weld Cell Building Skills
MWES has built complete, turnkey production line welding systems for a variety of manufacturing industries. This precise technology is a great welding option for low heat effect and thermal distortion control. We also employ laser welding on complicated, difficult to reach joint geometries. Laser welding is used where high travel speed is required. Due to the higher travel speed, less heat input is brought into the work piece. Accurate part fit-up is required.
Our expertise and experience make us industry leaders in custom automation welding solutions. Our wide skill set includes automatic welding programming, robotic vision, adaptive welding, and material handling. Using our expertise in these areas, we continuously develop and use the most advanced and modern welding technology.
For custom builds, we design, construct, and implement specialized welding automation to meet your specific needs and requirements. Our designs are both tailored to your needs and will include all we have learned from our three-plus decades of experience building other weld cells. These decades of experience have afforded us the knowledge on what works, what does not, and what needs refinement. We are able to offer a solution that will work best for your applications and needs.
Rely On MWES For Your Custom Welding Cells
Our custom weld cells can accommodate the needs of various manufacturing industries. We can custom build an automated weld cell that is right for your operations and production requirements. To discuss transitioning to robotic welding for production welding operations, contact MWES today. You can speak with one of our skilled and knowledgeable Application Engineers to learn more. 
Building the future of manufacturing, together