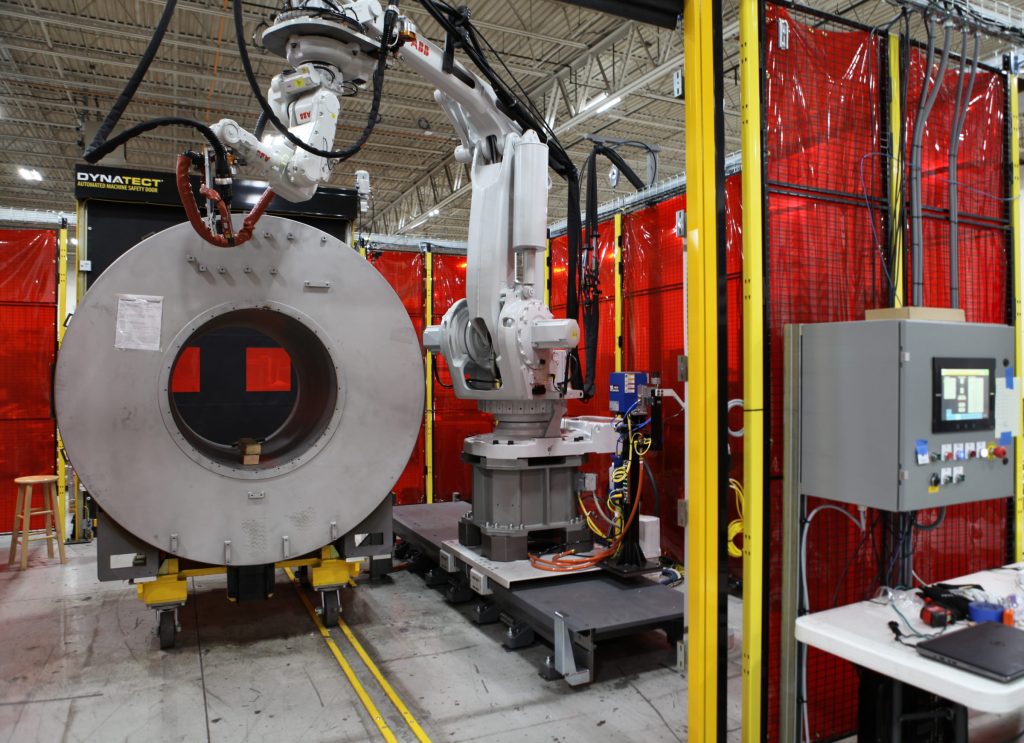 MWES designed and built an automated weld cell that would allow a single operator to operate the system.
Robotically automating a lengthy and complex weld process can create a great return on investment (ROI), by removing the need for skilled labor to accomplish such welding tasks.  A medical equipment manufacturing firm came to MWES looking to automate a precise and complicated weld process on large-scale medical equipment. The welding system had to also make use of equipment that was already in place and in use by the firm.
The welding cell would begin once the operator moves the OVC shell that's mounted on a cart, into position in the weld cell, and verifies the correct part information on the HMI touch screen.  The ABB IRB800 robot would move from side to side on a track to reach all the necessary locations on the OVC shell.
The weld cell operation would begin with the mounted OVC shell cart being moved into the weld cell on guide rails by the operator. Fore and aft sensors indicate to the operator when the OVC shell is in position.  Once the operator leaves the weld cell, the operator verifies that the correct part is loaded via the HMI touch screen and initiates the cycle start.
The robot moves from its home position and then selects either the carbon steel or stainless torch, depending on the program.  The robot moves over to the OVC shell and uses a laser scanner to verify the part's specific features.  The robot moves to the first joint and scans the joint for its position.  During the program, the robot will automatically change from carbon steel to stainless steel when required.  At predetermined points in the program, the robot will move to the torch maintenance area and perform torch cleaning.  Upon completing the first side of the OVC shell the robot returns to its home position and moves down the robot travel track to the second location, and then executes the program for the second side of the OVC shell.  Upon completion, the ground mechanism retracts and the cell signals the operator to remove the part.
The weld vessel cell MWES built for this firm allowed them to automate a welding process that would normally require skilled labor to complete.  This weld cell afforded this firm improved throughput and an ROI, while only requiring minimal labor to operate.
Midwest Engineered Systems has a wide range of experience in building robotically automated weld cells. If you're looking to improve your welding throughput, we have the knowledge and experience to make the project a success.
Contact us to learn how Midwest Engineered Systems can automate even your most complex and challenging operations today!
Innovation Through Automation
A globally recognized leader in manufacturing medical equipment.