Robotic Welding and Milling for High-Speed Handling of Bus Bars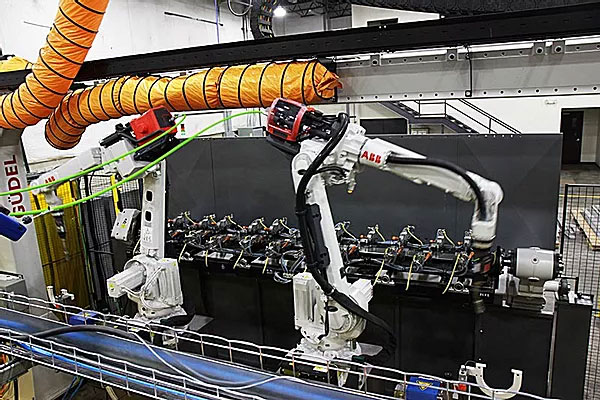 With the hazards associated with welding and the difficulty in finding highly skilled welders, a firm came to MWES looking to robotically automate the welding and milling of aluminum and copper bus bars of varying dimensions. 
Our customer needed an automated workflow that could perform robotic welding at one station and then move the weldment to another station where it could be milled, all in one seamless automated operation.
MWES designed a system that would where an operator would load the metal bus bars and tabs into an ABB 1000K Ferris wheel positioner in the weld cell. From there the operator can change any tooling required to properly handle that material. 
Once the operator verifies the correct load, the operator will then initiate a cycle start so that the Ferris wheel positioner will index to the weld station where two ABB IRB2600 robots will jointly begin the bus bar weldment. Upon completion of the welding, the welded part will be lifted up via a Gudel PZ overhead gantry where it is then moved to the next station. After the part leaves the weld station, the weld cycle begins again with a new part.
The welded part arrives in the mill and grind station via the overhead gantry, and from there the milling robots mill the reinforcement off of the welds. The grind robot will then follow up with its operation. The part is then repositioned by the positioner so that the same process can be performed on the bottom of the part.
Once complete the robot changes the tool to a small mill bit. This bit is used to clean up the corners of the part and remove any weld puddles that may have dripped over the side of the tabs. After the completion of the milling and grinding the part is then moved to the unload station. At the unload station, the Gudel material handling system removes the completed weldment out of the tooling and then an operator removes the weldment from the system.
This system completely automated the bus bar welding and milling process that would normally be performed by an individual. As such, the entire process ended up taking 135 seconds or less to perform, based on the size of the part. This system is capable of running 24 hours a day, 7 days a week, with tool changes happening at regular intervals. Without robotic automation, cycle times like those would not be possible any other way.
Midwest Engineered Systems has a wide range of experience in building automated welding and milling solutions. If you're looking to improve your welding and milling operation throughput, we have the knowledge and experience to make the project a success.
Contact us to learn about how Midwest Engineered Systems can automate even your most complex and challenging operations today!
Innovation Through Automation
A multi-national power management company.