Robotic Truss Welding Cell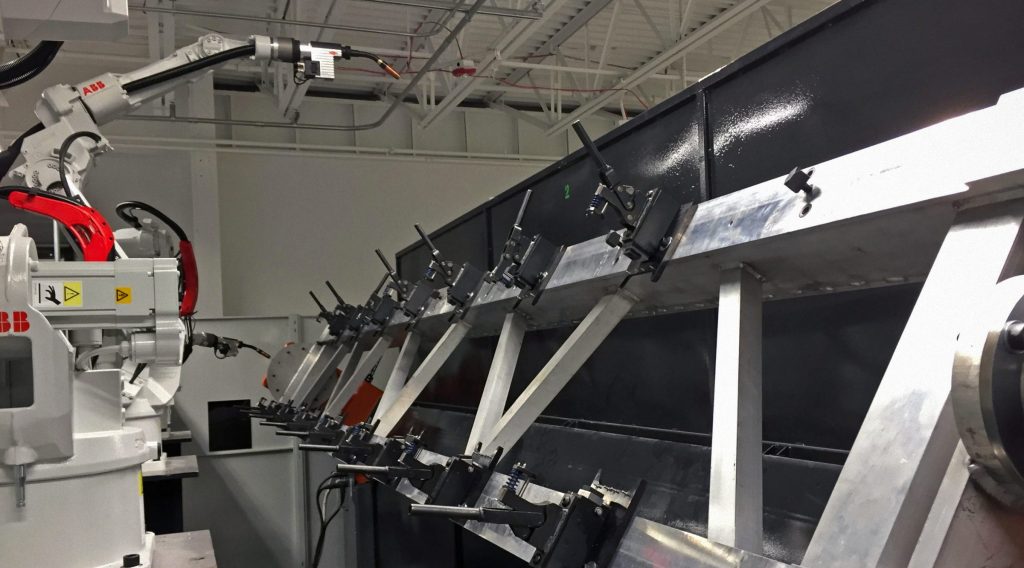 Welding of large frames is difficult both ergonomically for the operator and finding qualified welders is a continued problem. MWES designed a robotic weld cell that could handle truss welding with speed and ease.
Our customer needed a system to facilitate rapid growth without needing additional welding staff. The tooling and the parts needed precise clamping in order to weld properly which also restricted the operator's reach to the desired weld points. Subsequently, ergonomics was a deep concern.
The robotic system that was offered is an extended version of the ABB 1000 "K" cell. The "K" positioner is a Ferris wheel type of cell with a servo head/tailstock in each station. The system utilizes the ABB IRC5 controller to control the three ABB Welding robots in the cell. All three robots operate from one teach pendant. The system is complete with a safety cell and weld equipment for each robot. Ancillary weld equipment (Bullseye and torch cleaners) are shared items to keep the overall investment down. 
This configuration has a throughput of three operators per shift and can run multiple shifts per day without any injury to the operators. The robotic welding quality is extremely consistent and reliable.
Contact us to learn about how Midwest Engineered Systems can automate even your most challenging operations today!
Innovation Through Automation
A nationally recognized construction company.