Robotic Palletizing & Automated Guided Vehicle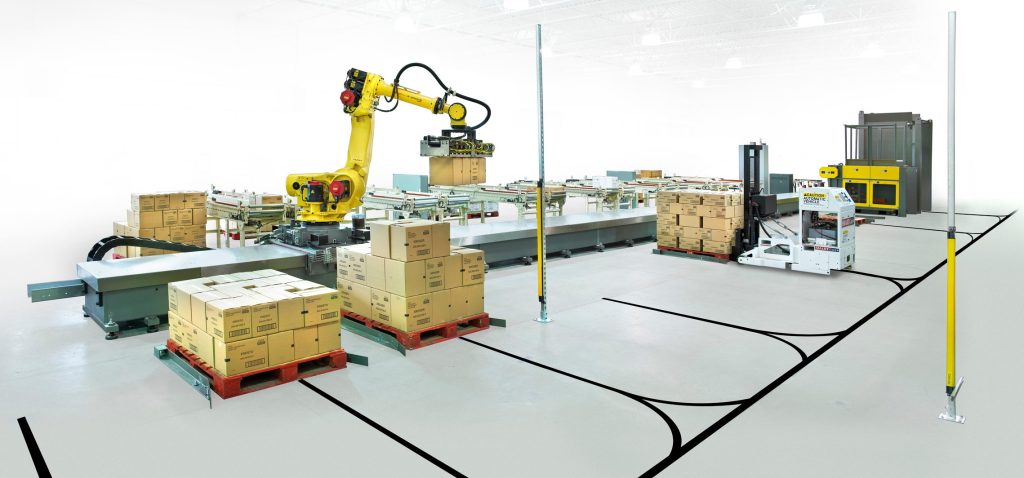 Midwest Engineered Systems designed an automated manufacturing process for a palletizing and stretch wrapping operation that handled 20 cardboard boxes per minute, along with an AGV system that could transport 10 pallet loads per hour.
Midwest Engineered Systems built an automated manufacturing process for material handling of 20 cardboard boxes per minute, for a palletizing and stretch wrapping operation. In addition, MWES created an automated guided vehicle (AGV) system that was able to handle 10 pallet loads per hour.
After a full evaluation of the project's challenges and goals, Midwest Engineered Systems provided the customer with a complete Fanuc robot automation-based solution, which included:
Fanuc Robots – Each robot system includes an R-2000iB Robot with a 165 kg load capacity and 2.655 m reach, two auxiliary servo motors and drives, material handling package software, and a robot cable solution from the 7th axis to the end effector
Dynamic Servo Actuated End Effector – Allows for active adjustment between picks for various box sizes, has an active vacuum control for paired cup sets to allow combinations of box placement, offsets riser for proper end effector elevation, includes valves, sensor connector banks, and flow sensors – all optimized for the specified Fanuc robot automation systems
AGV (autonomous forklift) – MWES provided integration services to design, install and start up the single truck system including forklift, navigation system, vehicle controller, I/O controller, various I/O devices and sensors, safety sensors and interfaces and, miscellaneous materials necessary to integrate AGV system components.
Pallet Locator Weldments – Welded and painted pallet locators supported the loads, provided clearance for the AGV to index under the loads and primed and painted surface finish.
Robot Floortrack – Heavy boxed rails transport Fanuc robot along the conveyors and pallet locations, E-chain Assembly, Machine Tool Grade Guide Way, and Power Train.
Fourteen Motor Driven Roller Infeed Conveyor – Skewed roller configuration with side pusher assembly for two-zone capabilities.
Fourteen Pneumatic Side Pusher Assemblies – each incoming box conveyor has two pushers, one pusher traps the boxes, separating a gap with the boxes to be picked and another side pusher moves the boxes against the side rail for alignment.
Two MWES Pallet Dispensers – The device provides automatic dispensing of white pallets with a storage capacity of twenty pallets each
PLC and HMI Touchscreen Display – An Allen-Bradley ControlLogix processor and an Allen-Bradley Panelview 1000+ color display were integrated into the factory automation system, the components display the cell status, error codes, and manual operations, as well as an I/O debug screen – all in easy to read displays.
The system MWES provided this customer afforded them a number of improvements in their palletizing operation. Such as, the automation system produced savings on labor for stacking pallets and it created a more consistent quality of stacked pallets. Residually the MWES system reduced work injuries from the lifting of empty pallets. In the end, the Fanuc robot automation-based manufacturing system improved overall customer manufacturing operations.
Midwest Engineered Systems has a wide range of experience in building robotic palletizing systems. If you're looking to improve your palletizing throughput, we have the knowledge and experience to make the project a success.
Contact us to learn about how Midwest Engineered Systems can automate even your most complex and challenging operations today!
Innovation Through Automation
A plastics fabrication company.