Residential / Commercial Appliance Material Handling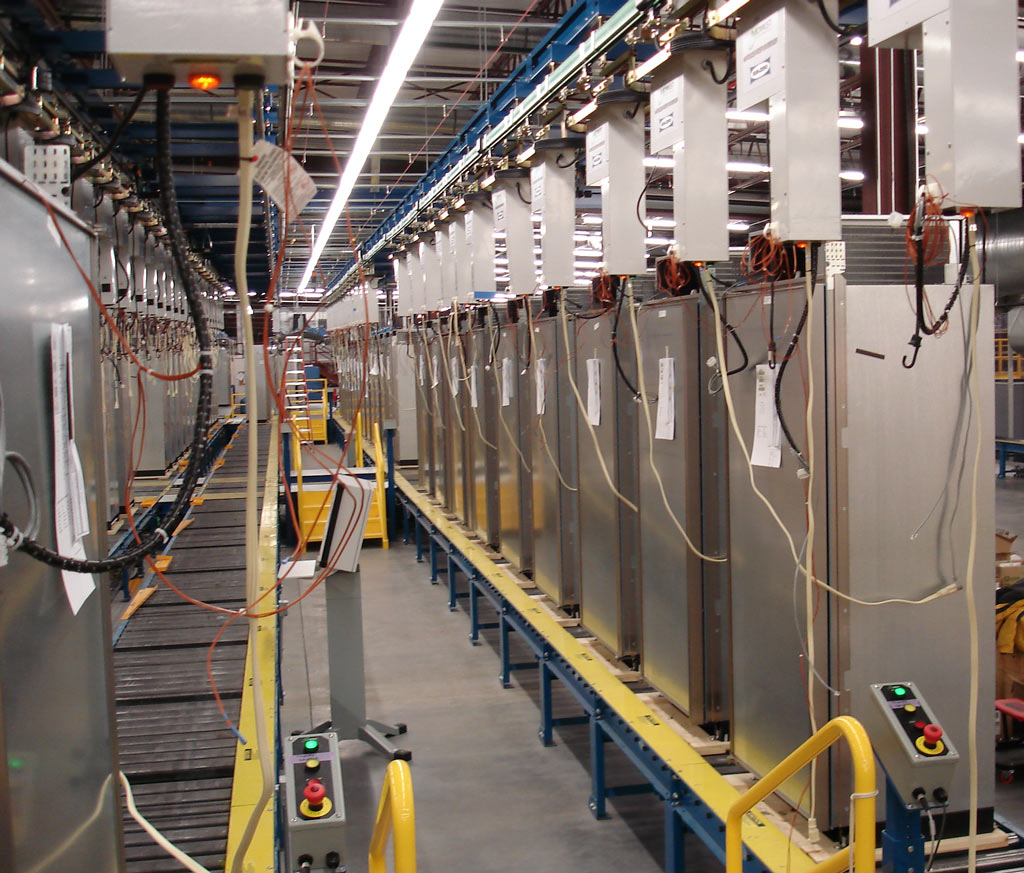 To design a complete material handling and control system solution that would accommodate the entire production flow and take each product through the rigorous testing process.
This manufacturer came to MWES seeking to automate and improve their material handling process. In order to accomplish this the following metrics had to be met:
Design a test system to handle the production rate of one unit every 82 seconds
Minimize the amount of accumulation needed for these tests by utilizing overhead mobile electrification loops to test the refrigerators in motion
Design a wireless production test system for over 300 units testing simultaneously
Design a custom data collection server solution to record all test data via wireless communication
Incorporate RFID tags into the material handling control solution to track data to specific product serial numbers and product locations in the system
Design a distributed control system to handle over 1200 conveyor zone sections and 8000 points of discrete I/O
Minimize the noise from over three hundred pallet locations by using chain-driven powered roller conveyors
Implement a distributed SCADA system for full process monitoring and control
MWES provided this firm with a system that met the manufacturer's goals by accomplishing the following:
Implemented Testing in motion through the use of mobile electrification which greatly reduced the number of accumulation conveyors required to complete the extensive testing process
Developed a wireless data collection node and server using embedded processor technology
Used wireless Zigbee technology to provide the ability to simultaneously test over 300 units
Implemented a distributed I/O architecture (ASI Bus) to effectively and efficiently control over 1200 conveyor zones
Incorporated RFID technology to positively track and record production and test data
Using powered chain driven live roller conveyors reduced the cost of spare parts and provided zone length flexibility for future product design
Chain transfers provided a means to automatically convey refrigerators to each workstation
Three high-speed transfer cars eliminated the need for twenty-four chain transfers and provided significant savings
The solution that MWES provided our customer achieved all the goals they had outlined for the project. In the end, MWES helped to streamline the entire testing and production process and provided them the ability to test over 300 units simultaneously while in motion. The system also reliably tracked and recorded all production and test data by unique product serial number using RFID technology and products flow through the system with minimal operator intervention. This system expansion is built into the design for future growth.
Midwest Engineered Systems has a wide range of experience in building material handling lines. If you're looking to improve your manufacturing throughput, we have the knowledge and experience to make the project a success.
Contact us to learn about how Midwest Engineered Systems can automate even your most complex and challenging operations today!
Innovation Through Automation
A leading manufacturer of high-end consumer appliances.