Robot Packaging & Palletizing Cell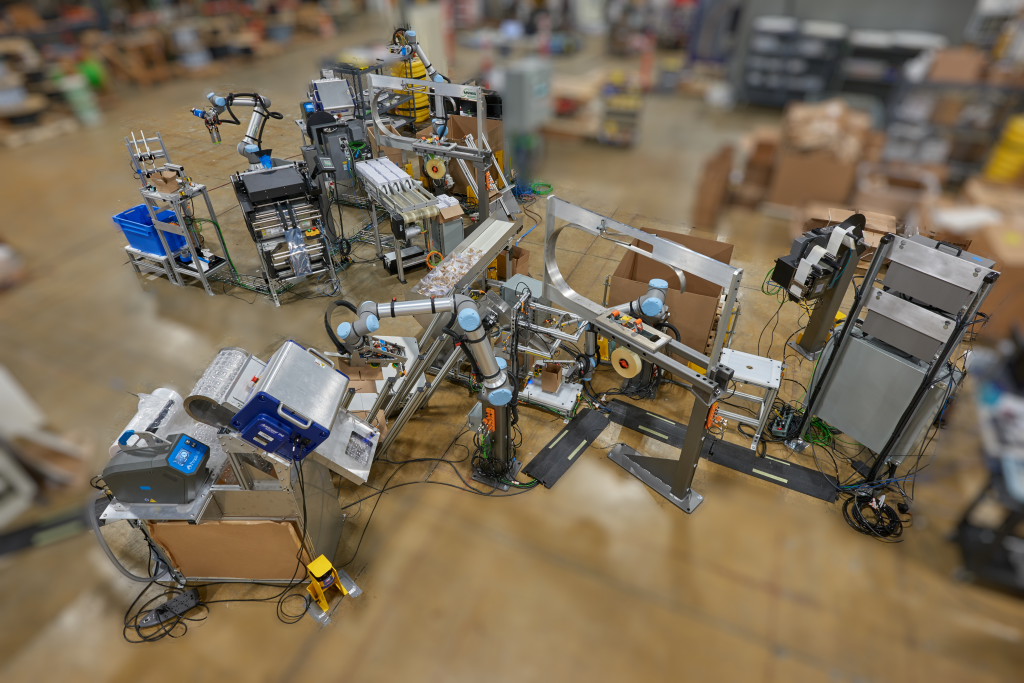 Running a rapid case packing and palletizing operation with manual labor can lead to inconsistent throughput.  With good labor in short supply, many businesses are turning to robotic automation.
This is where a healthcare equipment supplier came to Midwest Engineered Systems looking to robotically automate an entire case packing and palletizing line.  The robot cell had to take the incoming part, place it in a box with bubble wrap, along with the instruction manual, and place that case inside a cardboard gaylord.
MWES provided this firm with a robot packaging cell that consists of two robots, a carrier disassembly station, a part bagging station, a flat box infeed fixture, a case erecting and sealing station, part outfeed areas and a label print-and-apply system.  The packaging cell performs a number of operations simultaneously, with one of the robots handling the incoming parts and the second robot handling the boxes.  The sealed and labeled boxes are then stacked inside a large cardboard gaylord.
The packaging cell starts by performing two simultaneous robot operations.  The Universal Robotics UR10e case-handing robot picks a flat box from one of the two flat box infeed fixtures, runs the box through a box erector and tape seals the bottom of the box.  The case handling robot then presents the box to the instruction manual infeed device for reception of the instruction manual.  The robot will then transfer the box to the part-handling robot for the insertion of the air-on-demand part cushioning sheet.
The part-handling robot will then pick the part from the bi-directional 10-lane infeed part hopper and bring it to the barcode scanner to confirm the part.  The robot then runs the part through the carrier removal fixture where the carrier is removed from the part by means of pneumatic actuators.  Once this operation is complete, the part-handling robot places the part inside the box being presented to the case-handling robot.  The case-handling robot then top seals the box and presents the sealed box to the labeling system for the label application.
The robot case packaging and palletizing solution MWES provided this customer afforded them a cycle time of 56 seconds from part to part, with an overall rate of around 64 parts per hour.  This automation freed workers from intense manual operation to other tasks that are more suited for humans.  The only manual intervention this robot cell requires is filling the box infeed fixture with flattened cartons (RSC) and loading the instruction manual infeed device.
Midwest Engineered Systems has a wide range of experience in building robot case packaging cells. If you're looking to improve your case packing throughput, we have the knowledge and experience to make the project a success.
Contact us to learn how Midwest Engineered Systems can automate even your most complex and challenging operations today!
Innovation Through Automation
A worldwide healthcare equipment supplier.