Floortrack Robot Palletizing Cell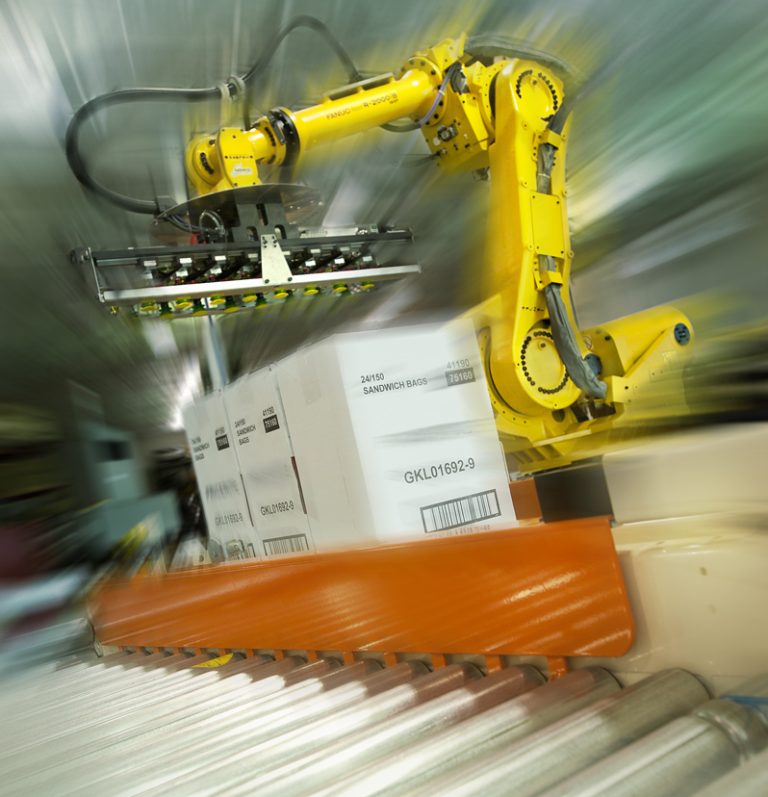 A robot palletizing system that utilized AGVs to transport pallets around the facility.
With manual labor becoming increasingly scarce and difficult to retain, our customer was looking to replace their manual palletizing process with robotic automation. This firm came to MWES needing to palletize on multiple pallets with many different case sizes and styles, all doing so at a high rate of speed and with great accuracy.
Midwest Engineered Systems provided the firm with an automated palletizing system that consisted of a conveyor system with two separate robot cells to handle the product. The Fanuc M-410iB/140H robot would be mounted on a 7th-axis robot track that allowed the robot to access and load thirteen pallets simultaneously.  Once a pallet has been filled, Automated Guided Robots (AGVs) would then enter the cell and remove those pallets from their stations, and be transported out of the cell to where the pallets can be processed.
The cases would arrive in the cell via one of two conveyors where the barcodes on the cases are scanned.  That information is then relayed to the control system where it determines the product type and the pallet layer configuration necessary for that case size.  The robot would move to the conveyor and retrieve the case and place it on an onboard case holding station.  Then the robot would index to the desired pallet and use vacuum plates to grip and place the case on the pallet.
From there the cycle would repeat until a pallet is registered as full by the programmable logic controller (PLC), and an automated guided robot would enter the cell and retrieve the full pallet and move it out of the cell, and place where it can be processed.  In order to prevent a log jam if a pallet is full and there are more cases for that pallet, a buffer table is available to help keep things moving.  The robot would then switch to a pallet gripper and place a new empty pallet in the station that any full pallets were removed.
Utilizing a floortrack robot palletizing system afforded this customer the efficiency of handling over a hundred different case sizes and palletizing layouts simultaneously, all the while being completely autonomous.  The system would cycle at around 1½ pallets per hour with about forty operation cases to a pallet.  This system replaced the demanding labor-intensive task of manually palletizing multiple pallets, all the while making sure that the correct product ends up on the correct pallets.
Midwest Engineered Systems has a wide range of experience in building robotic palletizing systems. If you're looking to improve your palletizing throughput, we have the knowledge and experience to make the project a success.
Contact us to learn about how Midwest Engineered Systems can automate even your most complex and challenging operations today!
Innovation Through Automation
A plastic fabrication company based in Appleton, WI.