Refrigerated Storage Tending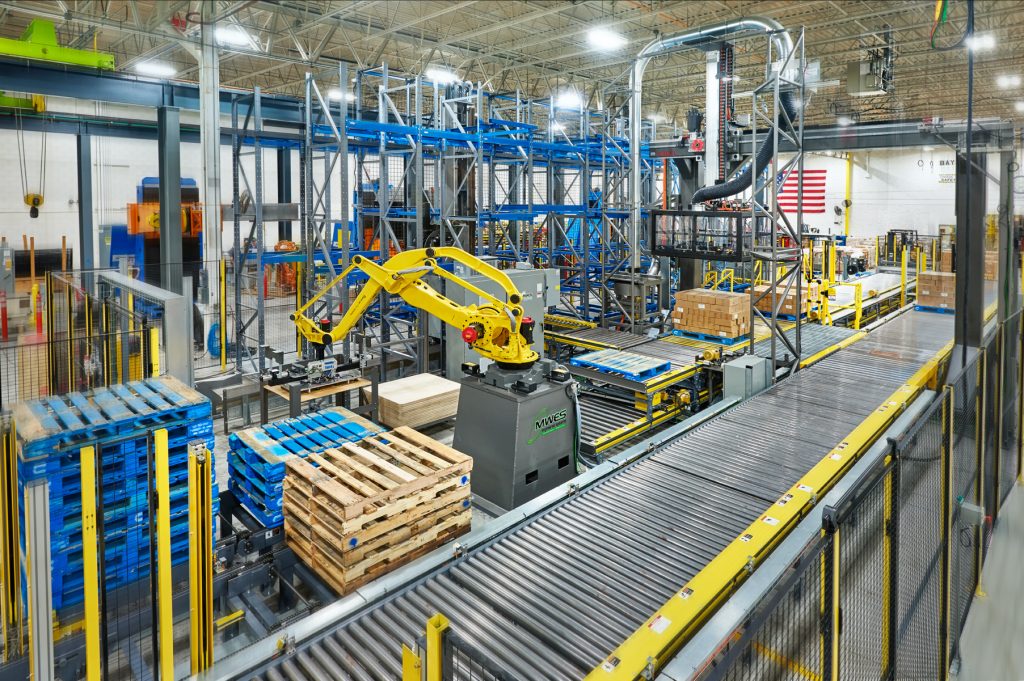 Midwest Engineered Systems provided our customer with an automated layer-picking system that consisted of a conveyor and pallet system, AS/RS buffer system and layer-picking robot.
Acquiring enough manual labor to staff and run a large warehouse operation is a daunting task, and even more so when labor is in short supply. A distributor of pharmaceutical products came to MWES seeking a solution to robotically automate their warehousing and distribution process. Essentially, our customer needed a system that is an improved and automated approach to tracing, tracking, and retrieving inventory. The solution MWES provided this firm was our advanced AS/RS buffer systems which offer simplicity while increasing efficiency across a variety of manufacturing industries. This in turn would limit the amount of labor needed to combine and create pallets of materials with mixed product SKUs'.
What is an AS/RS Buffer System
An automated storage and retrieval system (AS/RS) is designed for robotic placement and recovery of stored items and they have been in use since the 1960s. They are most commonly used in settings that involve part of product inventories in relatively small or tight spaces. These systems are especially valuable when retrieval accuracy of mixed SKUs is of utmost importance. 
The industries and levels of operation that frequently use these storage and retrieval systems include production, warehousing, distribution, retail, wholesale, and a variety of institutions. 
For example, the frozen food industry utilizes automated storage and retrieval systems to alleviate employees of potentially dangerous overexposure to below-freezing environments. With AS/RS, items in subzero refrigeration temperatures can be selected and retrieved while employees remain safe. 
These systems are also used in pharmaceutical manufacturing to help adhere to strict regulations for tracking and traceability. While frequent handling and human contact with medications can put them at risk for contamination and other errors, automated processes improve consistency and reliability. Additionally, AS/RS systems allow for instantaneous quality control information without requiring additional handling of the materials. Learn more about MWES' AS/RS.
The Benefits of MWES' AS/RS Buffer System
Our AS/RS system can serve as the factory's central hub when the manufacturing equipment and materials are in the same location and can be managed under the same system. Production processes that are ordinarily asynchronous can be brought together to greatly improve efficiency. Manufacturing kits specific to individual products can be set up and retrieved along with necessary component parts. The AS/RS system can be configured to manage the location of the kits to facilitate well-coordinated timing and order of their retrieval. Learn more about the benefits.
MWES' Approach to AS/RS Buffer Systems
In addition to improving storage and retrieval, our AS/RS Buffer systems can be used to improve other aspects of manufacturing too. They can provide a means of more efficiently managing warehousing processes, leading to a variety of improvements. For example, our AS/RS Buffer system leads to saved time spent on manual retrieval and accurate order picks. It also allows for simplified and quick management of stock by categorizing materials based on their production process integration during manufacturing.
Our systems are designed to function either fully autonomously or in tandem with human involvement. In a fully automated custom-designed system, the AS/RS might be programmed to retrieve and ship items on its own through responses to pre-established customer order criteria. For example, if a customer's product inventory falls below a certain threshold, such as 50 units, the system can retrieve and ship those items. In other scenarios, a system can be established that has more interaction with human involvement and oversight of the otherwise automated processes.   
MWES provided this firm with an automation system that includes AS/RS buffer system, a conveyor system, a layer-picking robot and a pallet-picking robot. This automation system would take inbound source inventory pallets that would be manually unwrapped by the operator and separate the contents of the pallets out with the purpose of fulfilling customers' orders. Those orders would be robotically palletized and once complete moved to a staging area. Likewise, the incomplete orders are sent to the AS/RS buffer system where they are held until the order's next line item is available for processing.
The automated layer-picking system directs the operator on the ideal feed sequence of the build and order pallets while minimizing the labor needed to build the order. Given a set of orders from the customer's Work Management System (WMS) and verification of the quantities on hand, the software determines the optimal build sequence to fulfill the orders.
The end result is that the customer maximized their throughput while minimizing the need for costly manual labor. With this system, our customer was able to build orders far more rapidly and efficiently which afforded them far greater throughput in their operation. With a layer pick cycle time of 30 seconds and an AS/RS pallet move time of 45 seconds, the solution MWES provided this customer is unmatched in throughput.
Midwest Engineered Systems has a wide range of experience in building palletizing and de-palletizing systems. If you're looking to improve your palletizing throughput, we have the knowledge and experience to make the project a success.
Contact us to learn how Midwest Engineered Systems can automate even your most complex and challenging operations today.
Innovation Through Automation
A premier manufacturer, packager and distributor of over-the-counter pharmaceutical products and consumer healthcare goods based in South Carolina.