Flywheel Multi-Station Custom Press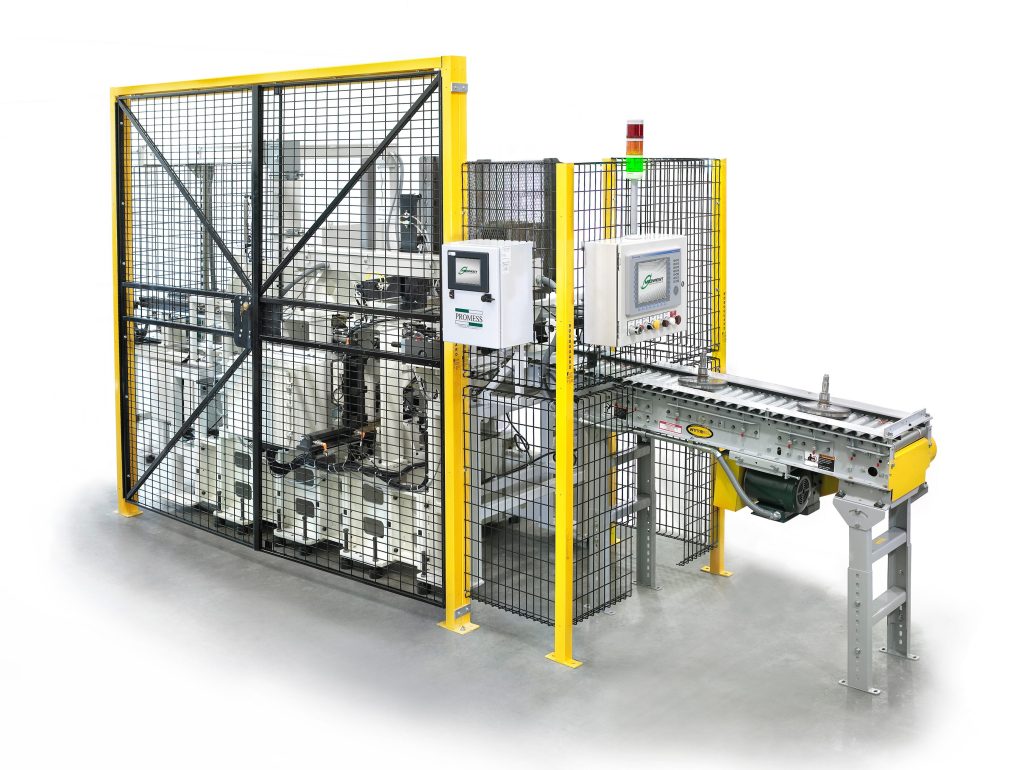 A firm came to Midwest Engineered Systems looking to fully automate a multi-station press for flywheel assembly.
The machine must automatically infeed the flywheels from the parts washer, orient a timing gear, and then install the timing gear, bearing race, snap ring and a Lee plug.
Midwest Engineered Systems designed a fully automated multi-station press that has a part rate of one assembled part every 50 seconds. The following methods, components and technologies were implemented and integrated to provide a comprehensive solution:
Two-strand chain conveyor integrated into parts washer conveyor for automatic flywheel introduction
The vision system used to locate flywheel TDC (top dead center)
Magazine escapement loading bearing races
Vibratory bowl feeder loaded timing gears
The vision system used to locate gear by timing mark
Vibratory bowl feeder loaded Lee plugs
Magazine-loaded snap rings
Individual hydraulic pressing stations using Promess force load monitoring system for press verification feedback
Automated snap ring installation
Automated Lee plug installation
MWES was able to provide the following improvements to this customer's manufacturing process:
Part rate of one part assembled every 50 seconds or less
Parts are automatically assembled
All pressing is verified using Promess force load monitoring technology
Bad parts are automatically identified
Midwest Engineered Systems has a wide range of experience in building custom automation. If you're looking to improve your manufacturing throughput, we have the knowledge and experience to make the project a success.
Contact us to learn about how Midwest Engineered Systems can automate even your most complex and challenging operations today!
Innovation Through Automation
An American motorcycle company from Milwaukee, WI.