Automated De-Stacking System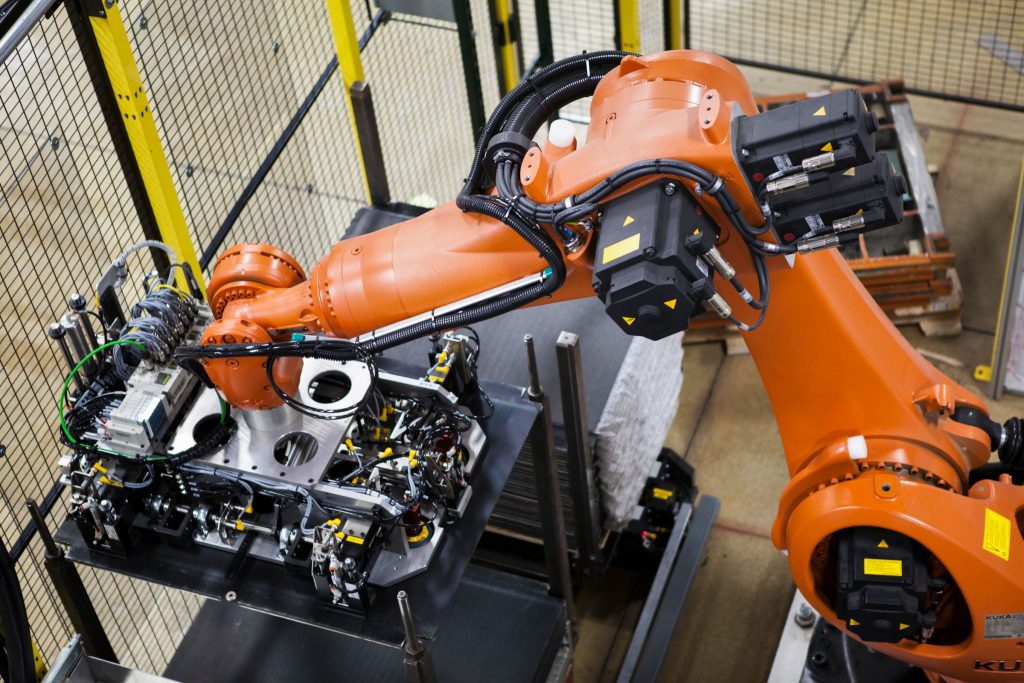 MWES provided a consumer products manufacturer with a robotically automated batch oven cart plate de-stacking process and print labels application onto the slabs.
De-stacking heavy steel plates can be difficult work for manual labor. A consumer products manufacturing firm came to MWES looking to robotically automate a batch oven cart plate de-stacking process and apply print labels onto the slab.
MWES designed and built an automated system that would use a KUKA KR180 R2500 robot with an EOAT gripper to move the plates and slabs off the stack, and into their respective staging locations during the process. An operator would have to place the carts into the docking stations, and then remove the finished stack of slabs once the cycle is complete.
The system begins when the operator places the batch oven cart into the docking station.  The robot then retrieves the top plate from the batch oven cart and places it on the top plate stand.  Once complete, the robot then repeats the following process until the batch oven cart is empty:
The robot gets the spacer plate from the cart and places it on the spacer plate stand.
The robot gets the slab from the cart and places it into the regrip nest, and then moves it over to the finished slab stand.
The print applicator advances over the slab and a tamp pad puts a label on the slab.
In the next operation, the robot will move the top plate from the top plate stand and then place it on the top plate load cart.  Once the top plate cart is filled the operator removes it from the cell.
This de-stacking system afforded the customer improved throughput when de-stacking and processing batches of oven plates.  The entire cycle can be performed in less than 90 seconds and requires minimal human intervention.
Midwest Engineered Systems has a wide range of experience in building robotically automated de-stacking cells. If you're looking to improve your de-stacking throughput, we have the knowledge and experience to make the project a success.
Contact us to learn about how Midwest Engineered Systems can automate even your most complex and challenging operations today!
Innovation Through Automation
A globally recognized manufacturer of consumer products.