Robotic Food Product Case Packing Machine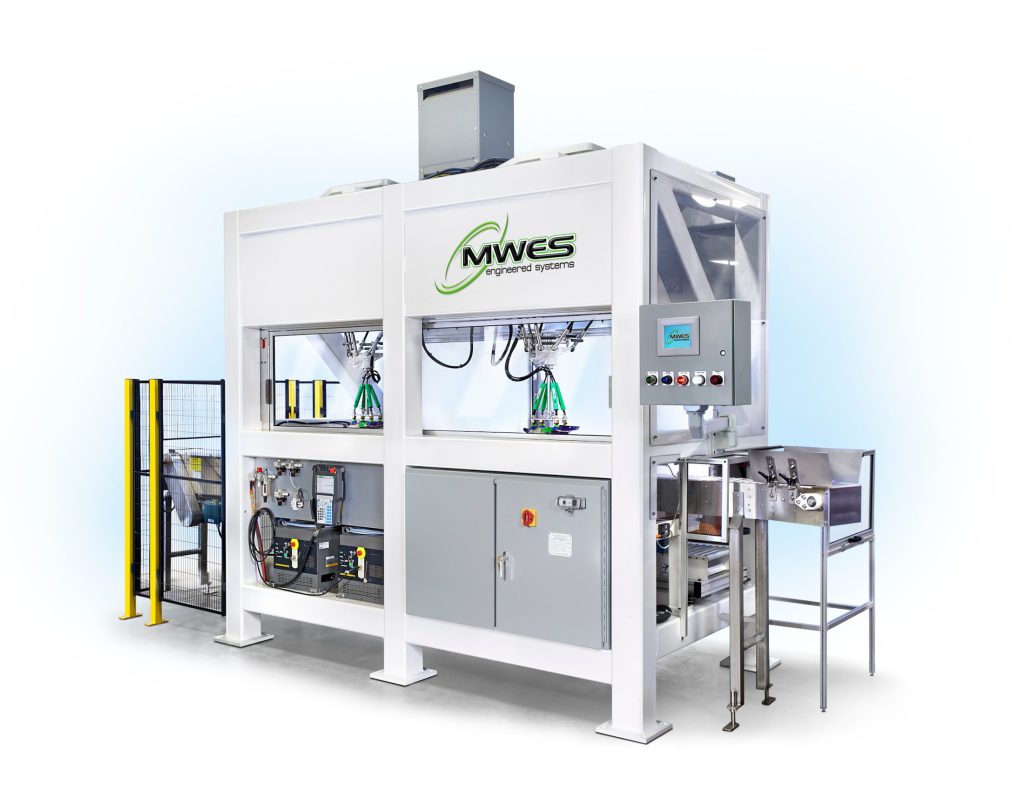 This cheese supplier was looking for an automated solution for packaging their bagged cheese goods at the speed of 50 bags per minute.
Looking for a solution that could simultaneously solve labor staffing and increase production speeds, our client came to Midwest Engineered Systems to devise an automated solution to packaging bagged consumer goods. But the customer was specific in their needs, including the performance of 50 bags per minute with an 85% overall equipment effectiveness rate from the packing cell.
To achieve these benefits, MWES engineered the case packer machine to use machine vision for locating products as they enter the machine. The system would then transfer the positional information to the robotic picking arms. Through unique programming written by MWES programmers, the vision system not only conveys the location of the product but its orientation on the belt. This allows for far more precise placement into secondary packaging with tighter pack patterns.
The MWES designed and built system comprised of two Kawasaki RS07NFF60 6-axis robots each having a 7kg payload and a reach of 730mm. These robots were suspended above the product conveyor line positioned to pick up the bagged goods and deposit them into secondary packaging moving on their own belt, to one side of the product conveyor line.
The robots themselves use a proprietary vacuum end of arm tooling designed specifically for the rigors of picking and placing bagged products. This tooling not only can be adjusted to handle more fragile materials, but it's also excellent at addressing the varying topology of the bags themselves. These grippers help guarantee a near-zero drop rate, even while running at the high pick place speeds the MWES machines can operate at.
With an eye toward making installation quick and easy, MWES designed the entire case packing machine to be encapsulated within its own welded steel frame. The installation comes down to securing the machine in its location and connecting power, air and Ethernet connection. In most instances, the turnkey design allows systems to be up and running in a day.
The compact footprint of the case packer system helps reduce the pain of integrating it into a production area. Movement and positioning of the system can be done with just a forklift. Depending on robot choice, this system could also be installed in some cold room environments.
The performance of the MWES case packing system has surpassed expectations in a few key ways. Using the two-robot configuration, the MWES case-packing machine is able to pack up to 80 bags per minute with no drops – exceeding both throughput and equipment effectiveness specifications. The system has also allowed the customer to relocate 2-3 workers a shift to more meaningful tasks. In their place, only partial supervision of the machine is needed. The system also opens the door to downstream automation including a palletizing system to take the secondary packaging ready for shipping, as well as upstream box erectors to further automate the process.
MWES now offers these case-packing machines as a standardized system that allows for fairly quick order turnaround times. The systems can also be ordered with three integrated robots, allowing for a packing speed of up to 120 bags per minute.
Midwest Engineered Systems has a wide range of experience in building automated case-packing machines. If you're looking to improve your case packing throughput, we have the knowledge and experience to make the project a success.
Contact us to learn about how Midwest Engineered Systems can automate even your most complex and challenging operations today!
Innovation Through Automation
A national bagged cheese supplier.