Roll Storage and Cutting System for
Easy & Fast Storage of Laminate Rolls
The Challenge
This firm came to Midwest Engineered Systems with the problem of storing samples of large, heavy rolls of laminate in a compact racking system that can be retrieved robotically and then cut to length.  The system had to utilize a robot to navigate a compact racking system to retrieve 62 inch long rolls that weigh up to 200 pounds. The robot would then place the roll where the operator can access the roll for cutting.
The Solution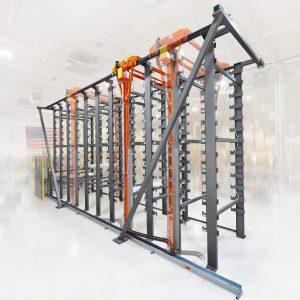 MWES provided this firm with three automated racking and retrieval system rows that can store 240 rolls each, with each roll weighing 200 pounds.  As well as three roll cutting tables with manual swing-out roll unwind carriages.  The system's operator picks the roll needed for cutting and the robotic retrieval system picks the roll off the rack and then moves it over to the unwind and cutting station. From there the operator can manually unwind and cut sheets from the roll to the desired length.  The robot then returns the roll back to its unique storage location.
The system starts when the operator chooses the desired roll for cutting from the Wonderware-based computer system.  The picking strategy is generated to spread across multiple rack rows with a roll from each row automatically picked and presented to the operator for cutting.  The robot then goes out and picks the two rolls from their storage position and moves them to the make-ready position.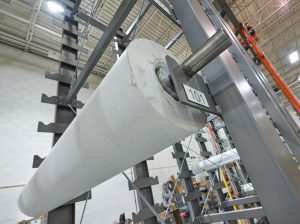 The Operator then moves a selected roll to the unwind and cut position and manually unwinds and cuts the roll into sheets to fill the order.  Once the operator is done cutting, they then move the roll back to the presentation location, and the robot exchanges that roll with the one in the make-ready position.  The competed roll is returned to its unique location in the rack and another roll is selected for cutting.  New sample rolls are manually added and replaced in the system via the swing-out roll cutting station.
Impact to the Customer
The roll storage and cutting system that MWES provided this customer allowed them to store up to 720 rolls of laminate that are 62 inches long and weigh 200 pounds each.  The cycle and pick time for this system tops out at 2½ minutes, with rolls closer to the cutting table taking less time to retrieve and thus having a shorter retrieval time.  This system helped eliminate the burden placed on individuals' manually handling the heavy 200 pound rolls, and affords a more compact storage solution for hundreds of rolls of laminate.
Midwest Engineered Systems has a wide range of experience in designing and building automated robotic storage and retrieval solutions.  If you're looking to improve your automated roll storage and retrieval throughput, we have the knowledge and experience to make the project a success.
Contact us to learn about how Midwest Engineered Systems can automate even your most complex and challenging operations today!