Laminating Line with Automated Packaging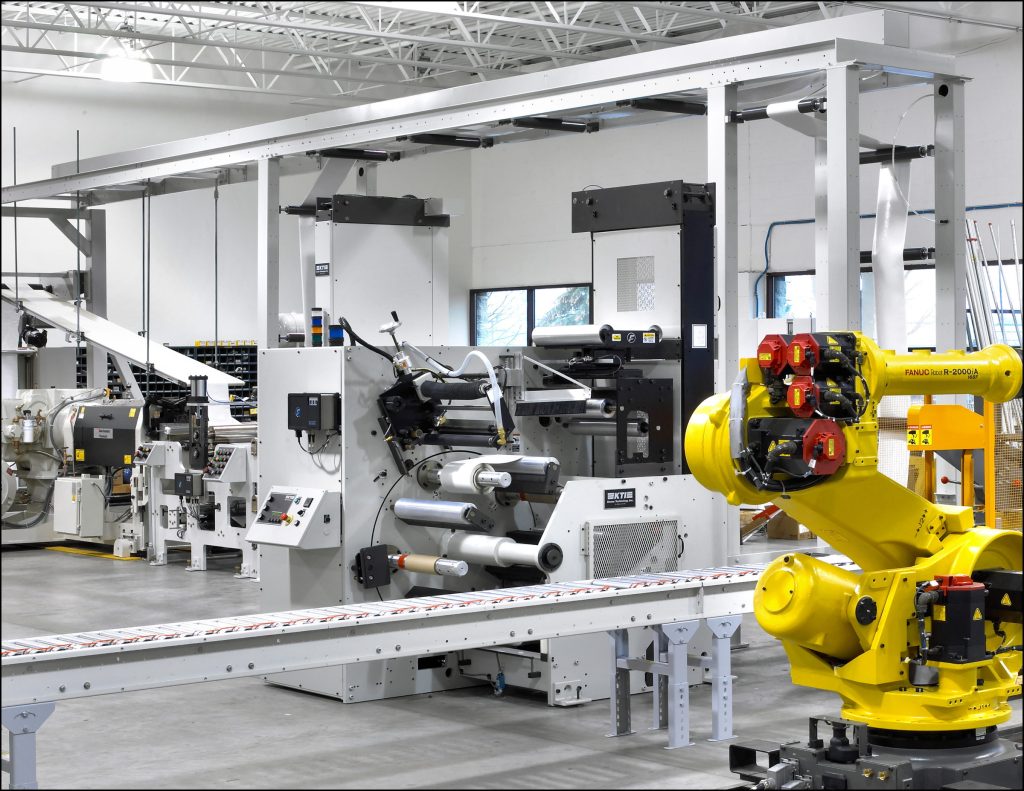 A new laminating line was designed and built for this manufacturer of industrial and construction adhesives. They needed to produce their product from raw materials in a very high volume, with consideration to the weight of each package.
This firm was faced with manufacturing a high volume products from basic raw materials for shipment and point of sale in retail stores. Special consideration was made to operator ergonomics due to the weight of the packaged products.
Midwest Engineered Systems provided a laminating line with an automated finished roll packaging system to this firm, which included:
Web Handling Equipment: KTI Unwinds and a KTI Rewind (per customer request) were implemented into the Laminating Line to meet a 300 FPM line speed. These units included automatic transfer systems for continuous laminating operation while changing rolls. MWES designed a custom laminating station to laminate the proprietary extruded adhesive between the primary and secondary substrates.
Extruder System: Davis-Standard extrusion equipment was provided by MWES and integrated into the laminating line. MWES integrated a custom servo-controlled extruder positioning system to meet the customer's precise die output position requirements. Removable die plates were incorporated for handling the various product widths and patterns. A custom system for feeding raw material into the extruder was also provided.
Automated Rewind Roll Handling: MWES provided an automatic core loading system and a unique system to automatically unload final product rolls from the rewind. Finished product rolls are removed from the rewind spindle utilizing a Fanuc robot. The robot end-effector was designed for removing rolls and palletizing boxes, incorporating pneumatics/vacuum generators, and mechanical clamping.
Finished Roll Packaging System: Finished retail point of sale product boxes are assembled with a case erector and then conveyed to the robot loading position. The roll is deposited into the product box by the robot, conveyed to an automatic labeling system, closed, and sealed. A barcode scanner is then used to verify correct label placement.
Shipping Box Assembly: Shipping boxes are assembled with a second case erector and product boxes are loaded two at a time into a shipping box with a custom-designed pick and place machine. The shipping box is also automatically labeled, closed, sealed, and bar code scanned for verification of label placement. The system is designed to handle multiple sizes of finished rolls, product boxes and shipping boxes, as well as to put rolls directly on the conveyor for manual packaging.
Automated Palletizing & Wrapping System: A pallet dispenser individually unstacks a pallet to be conveyed to the palletizing position. The completed shipping boxes are palletized in a specific pattern by the same Fanuc robot used in the roll handling operation. The finished pallets are then automatically conveyed, stretch wrapped, indexed into the full pallet pick-up zone, and labeled for identification. The system is also configured to bypass the shipping box packaging so that the robot can automatically palletize product boxes.
Data Collection/Analysis System: A Wonderware based system was provided to collect and analyze data from the laminating line and packaging system. Information collected includes material measurements, material types, machine usage/downtime, product tracking, raw material used, and labeling/verification. The system was also provided with recipe save/recall features and a custom operator interface for the operating staff to input information.
The system MWES provided our customer cleanly integrated control system including complete integration with main system components supplied by other vendors, which provides one convenient operator interface with all components. The other benefits include:
Web handling system including precise tension control, automatic web guiding, automated slitting, and precise unwind and rewind control for ease of operator setup
Precise extruded adhesive thickness control and die output positioning to the substrate
The system can load 150 finished boxes per hour
Finished pallets are ready for stretch wrapping every 24 minutes
Product box erector assembles 5+ boxes per minute
The overall system incorporates a compact layout, saving floor space
Ergonomic goals of weight and repetitious operator handling were met relative to raw material handling and finished product roll handling
Midwest Engineered Systems has a wide range of experience in building web handling systems. If you're looking to improve your web handling throughput, we have the knowledge and experience to make the project a success.
Contact us to learn about how Midwest Engineered Systems can automate even your most complex and challenging operations today!
Innovation Through Automation
An industrial adhesive manufacturer.