Spool Payout Twister with Capstan and Accumulator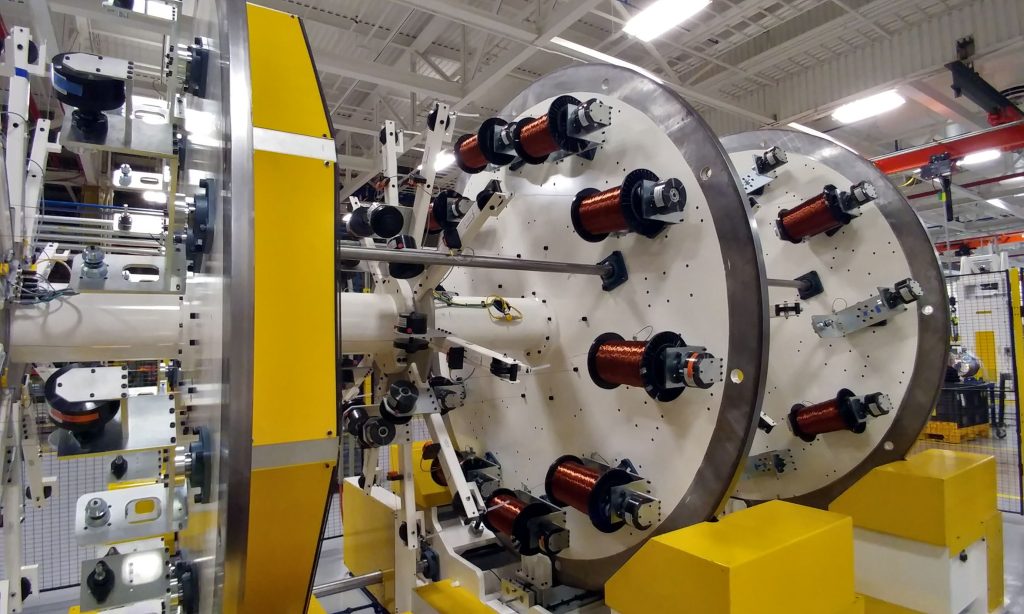 This MWES customer required a way to automate their continuous spool payout process. The single thread had to be fed to a coil winding machine after it was spooled.
With the complexity of twisting together copper wire from multiple spools into a single thread, this firm came to Midwest Engineered Systems seeking a way to automate the continuous spool payout process.  The single thread had to be then fed to a coil winding machine.  The system had to also be compatible with a Broomfield 400C Coil Winding Machine, as the firm already had programming and processes established with that specific winding machine.
MWES provided this firm with a planetary payout twister that consists of three rotary dials that hold ten spools each that feed into a Broomfield 400C coil winding machine.  The rotation of the rotary dials is handled by an Allen-Bradley Kinetix 5000 series servo system that connects to a transmission system that drives the main support shaft.  The dials rotate at 30 RPM and can handle spools that weigh up to around 85 pounds each.  With the rotation of the dials and the guiding pulley system, the copper wire is twisted and fed into the coil winding machine.
The payout twister dials rotate at about 30 RPM while the 10 planetary wire spools are servo-driven independently in conjunction with the dial rotation.  Each spool has detection for broken and runout wires to ease troubleshooting of the system and to prevent inconsistencies in the final product.  The wire spools are equipped with brakes for backlash control.  The capstan has a servo-controlled drive wheel capable of being removed with no wire interface once removed.
The twisted copper wire is fed into the coil winding machine at 60 feet per minute, where the winding recipes are programmed into the control computer.  Such programming can be done at the control console or from a standard PC, with hundreds of programs stored and run via the controller.
The spool payout twister and winder gave this customer a max speed of 60 feet per minute and with 30 payout spools of up to around 85 pounds each.  This process produces a continuous feed of twisted copper wire with minimal downtime for swapping out spools or pulleys.  With the programmability of the coil winder software, this system can be adapted to a number of other configurations as well.
Midwest Engineered Systems has a wide range of experience in designing and building automated wire spool payout twister and winder solutions.  If you're looking to improve your automated wire twisting and winding operation throughput, we have the knowledge and experience to make the project a success.
Contact us to learn how Midwest Engineered Systems can automate even your most complex and challenging operations today!
Innovation Through Automation
A manufacturer of industrial wire spools.