Roll Storage & Cutting System of Laminate Rolls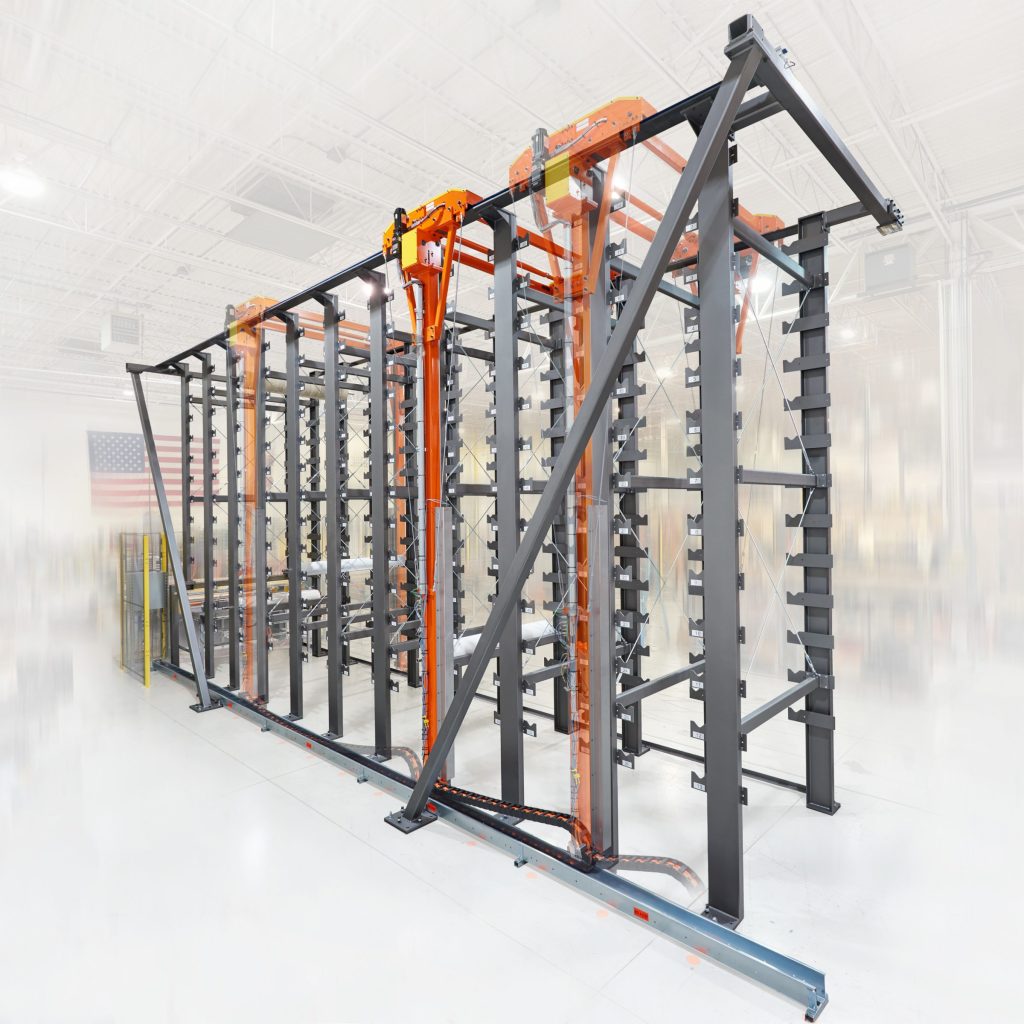 This laminate surfaces firm came to Midwest Engineered Systems with the problem of storing samples of large, heavy rolls of laminate in a compact racking system that can be retrieved robotically and then cut to length.
The system had to utilize a robot to navigate a compact racking system to retrieve 62 inch long rolls that weigh up to 200 pounds. The robot would then place the roll where the operator can access the roll for cutting.
To meet the requirements of the process, as described by the customer, Midwest Engineered Systems developed a unique automation cell that integrates several processes required to prepare these cartridges and vials for use in lab environments. More specifically, the cell works through five distinct and important processes.
The first step in the washing and the pre-treating process is cleaning the vials and tubes. This is done with a number of pressurized water jets designed to wash the entire surface of the item. The cleaning is broken into an exterior and interior step. After the heated water washes the surfaces, the parts are sent through a drying process of pressurized air to dry the part's exteriors. A third process takes care of drying the interior of the parts with moveable air jets.
The parts are then moved to the pre-treatment process that sprays a proprietary solution to completely coat their surfaces. After the coating process, the parts are subjected to curing. The outer surfaces and the interior are cured at the same time. Both of these operations are controlled through a closed-loop system that precisely manages the process.
All of these stages happen inside a clean-room grade enclosure featuring positive pressurization to keep every step as safe as possible and free of contamination. The enclosure is built into the rugged automation cell frame that also encompasses all of the systems the automation cell needs to operate. This makes for a compact footprint that's easier to install in an already crowded facility.
The roll storage and cutting system that MWES provided this customer allowed them to store up to 720 rolls of laminate that are 62 inches long and weigh 200 pounds each.  The cycle and pick time for this system tops out at 2½ minutes, with rolls closer to the cutting table taking less time to retrieve and thus having a shorter retrieval time.  This system helped eliminate the burden placed on individuals' manually handling the heavy 200 pound rolls, and affords a more compact storage solution for hundreds of rolls of laminate.
Midwest Engineered Systems has a wide range of experience in designing and building automated robotic storage and retrieval solutions.  If you're looking to improve your automated roll storage and retrieval throughput, we have the knowledge and experience to make the project a success.
Contact us to learn about how Midwest Engineered Systems can automate even your most complex and challenging operations today!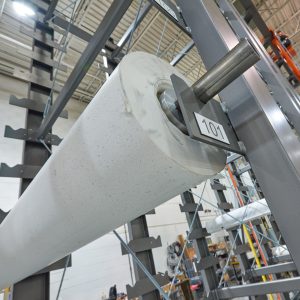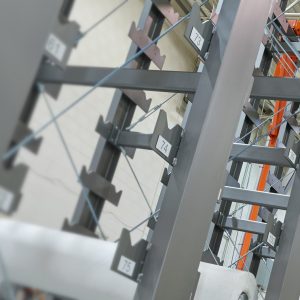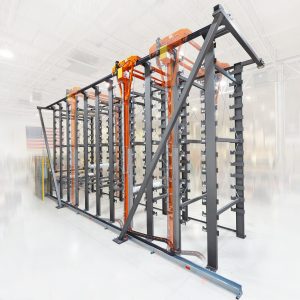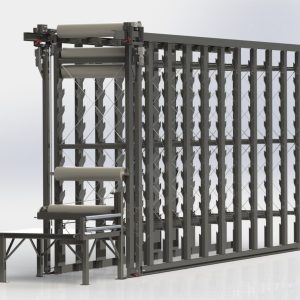 World-Leading laminate surfaces company​