Web Handling Line Drive & Controls Upgrade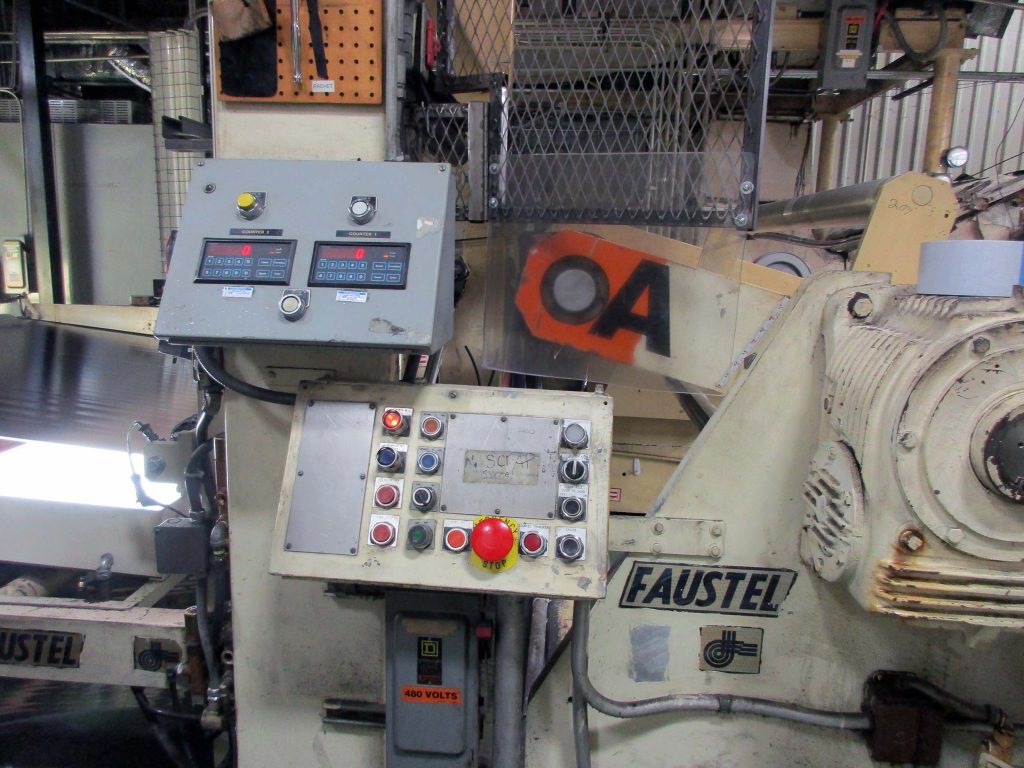 This customer came to MWES with the desire to upgrade the motors and controllers of an old casting line. Upgrading these systems improved the line's reliability and improved its safety while staying cost-effective.
Web handling lines that are decades old are more prone to malfunctions and are not up to par with modern safety standards.  When problems arise due to the system not functioning correctly, that can lead to work stoppages and lengthy downtimes to troubleshoot and repair the system.  A firm came to MWES with the desire to upgrade the motors and controllers of an old casting line.  Upgrading these systems improved the line's reliability and improved its safety while staying cost-effective.
MWES provided the firm with an extensive upgrade for this web handling line.  That upgrade included a major overhaul of the drive system, motors, the PLC, safety devices, HMI displays and pushbutton controls.  These improvements would bring that system more in line with newer machines used in the same plant, in terms of the level of safety and common parts.
Upgrades to the Unwinder and Rewind
Two new Montalvo V254 LoPro brake units were installed, along with two electronic pressure regulators for independent brake control.  Four new prox switches and mounts for detecting closed chucks for the mechanical interlock.  New pendulum style dancer assembly with lightweight aluminum idler integrated into the existing unwind frame.  The existing Rewind turret position encoder will be replaced with an Ethernet/IP rotary encoder.
Upgrades to the cast stations
Two guided pneumatic pull roll nip cylinders with solenoid valves.  Servo gap control with two Siemens drives and two Elwood Getty explosion-proof servo motors.  New drive stands with three drive shafts.
Upgrades to the chill station nip roll
A new nip roll assembly was installed on the lower chill roll.  While two guided pneumatic nip cylinders with rubber-covered nip rolls were also upgraded.
New footage counter
A new BETA LaserMike Laser Speed Pro non-contact footage counter is provided, mounted near the rewind area outside of any hazardous environments.
New Gearboxes
Specific gearboxes were replaced with new Nord units, while drop-in units were used in place of other gearboxes.
Modifications to the system load cells
The existing seven sets of CMC load cells and amplifiers were removed and replaced with FMS load cells and amplifiers.  Three sets located in hazardous areas have intrinsic barriers installed between the load cells and amplifiers.
Upgraded air conditioning unit
The 2-ton outdoor condensing unit was replaced along with the ductwork modifications to accommodate the new drive cabinets.  Plenum to adapt the new air handler with A-coil to the existing ductwork.
New machine area control cabinets
New machine area control cabinets were installed throughout the machine to house control level components, and to act as junction boxes for terminating some of the existing wirings as well as terminating wiring for the new components being provided.
Upgraded drive and control systems
MWES will provide all design, programming and testing of a coordinated drive system for this web handling application. The existing obsolete Eurotherm AC drive system was upgraded to a Siemens S120 and G120 series variable speed drives.  Also, the existing drive and control system enclosures were replaced by MWES with new enclosures installed in the vacated areas.
New Programmable Logic Controller (PLC)
An Allen Bradley ControlLogix GuardLogix Safety PLC was installed as the mainline controller.  The new PLC also assumes temperature control for the three cast oven zones currently controlled through three individual PMA, KS90-1 loop controllers.  The new PLC will also assume temperature control for the single zone barrier coat oven previously controlled through an individual Honeywell controller.  In addition, the PLC will connect to new e-stops and safety devices with associated wiring that will replace the previous safety circuit.
Safety measures
The physical guarding of machinery is the single most important defensive measure that can be made to prevent injury to personnel operating or maintaining our machines.  Emergency stop pushbuttons, pull cords, bump strips, PLC programming and operator interface programming are all at work to make the machine as safe to operate as possible.
Simply upgrading an existing web handling line was a cost-effective way for this firm to bring this web handling machine up to the standards of newer machines used in their plant.  Modernizing this older, yet proven, the machine keeps it operating safely and reliably for years to come.
Midwest Engineered Systems has a wide range of experience in upgrading a wide range of systems and machines. If you're looking to improve your existing systems by upgrading failure-prone and older components, we have the knowledge and experience to make the project a success.
Contact us to learn about how Midwest Engineered Systems can automate even your most complex and challenging operations today!
Innovation Through Automation