Coating-Laminating Line Additions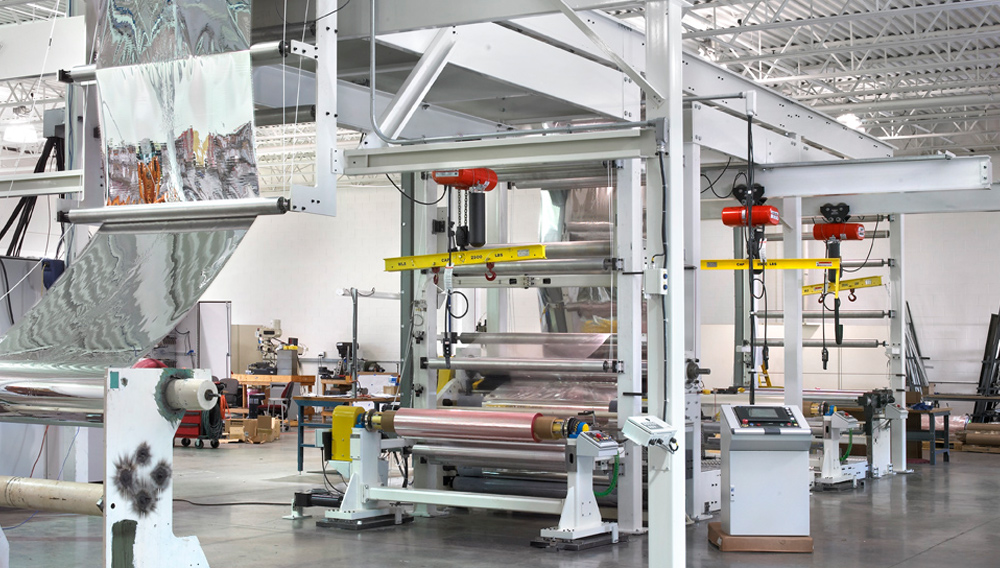 MWES added additional web handling capabilities to an existing lamination system.
Upgrading or adding to a preexisting coating and laminating line can be challenging. A firm came to MWES looking to add to and enhance an existing web handling coating-laminating line with additions to an SSI 90 Slitter. The line had to include new unwind/rewind units, hoist rails, as well as upright support structures to support the necessary idlers.
MWES built a system that would include two new unwind/rewind units with accompanying hoist rails mounted from I-beams.  The system also included four upright support structures to support the 18 idlers and two stripping units with fixed position idlers. 
The firm provided a number of existing components to the system, such as two existing unwinds, the SSI 90 Slitter and the main drive cabinet.  The entire line is controlled with an Allen Bradley PLC platform controller with a PanelView screen used as the operator's primary interface.
The SSI 90 Slitter acts as the core section of the web handling drive system.  The slitter pulls the web through the machine, depending on if the laminator nip section is open or closed.  The laminating roll is driven and the rubber impression roll is installed into pivoting arms and loaded by pneumatic cylinders.
The coating-laminating line additions MWES provided this firm allowed them to increase their overall web handling throughput throughout their production. This kind of improvement has an incredible impact on the overall ROI of the line.
Midwest Engineered Systems has a wide range of experience in building web handling lines. If you're looking to improve your web handling throughput, we have the knowledge and experience to make the project a success.
Contact us to learn how Midwest Engineered Systems can automate even your most complex and challenging operations today!
Innovation Through Automation
A manufacturer of laminated sheets.