A Guide to Process Development – White Paper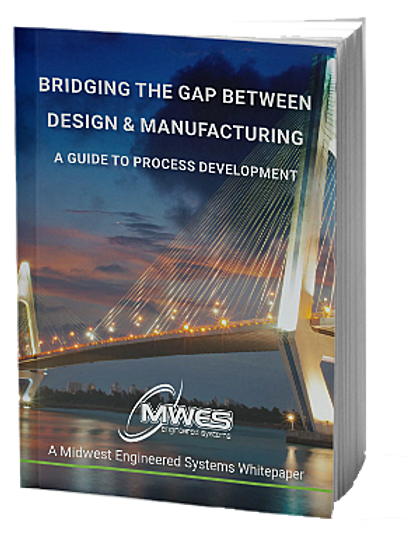 As engineers, we are always challenged to bridge the gap between design and manufacturing in the most effective way. As manufacturers, you produce new parts from a prototype design, but also struggle to select the best process for long-term production.
Download our Guide to Process Development where we share with you how to successfully launch a new product or optimize an existing process!
What You'll Get:
How to Design for Manufacturability
How to Pick Process Development Teams
Process Flow Guidelines
Cost Considerations
Common Mistakes
Results of Good Process Development
Midwest Engineered Systems Inc. provides integrated systems, custom automation machines, robotic solutions and production lines to manufacture globally. Our staff of over 75 engineers has the technical expertise, and a diverse knowledge base and has built thousands of integrated systems over the last 30 years. Additionally, Midwest Engineered Systems provides new process development, training, support, equipment maintenance and retrofits for all aspects of a factory's manufacturing equipment.
Need more information regarding your manufacturing application? Contact MWES to review your specific requirements, help you determine what equipment would be the most successful and receive a custom quote.
Download This White Paper
Fill in the form below to download this white paper.
More White Papers by MWES
Building the future of manufacturing, together