INNOVATION THROUGH AUTOMATION
Non-Automated Drive Train Manufacturing
Automotive drive train manufacturing is a practice in high-speed volume. Single versions of transmissions, differentials and other components assembled by the thousands or more. Conditions are different in a specialty, commercial or off-highway applications. Volumes are lower and contain many more versions. In these circumstances, conventional automotive-focused automation systems aren't the most efficient solution. It takes an integrator who has experience building these sorts of systems to make sure the production process can address all the product variations and varying quantities while still providing efficient operation.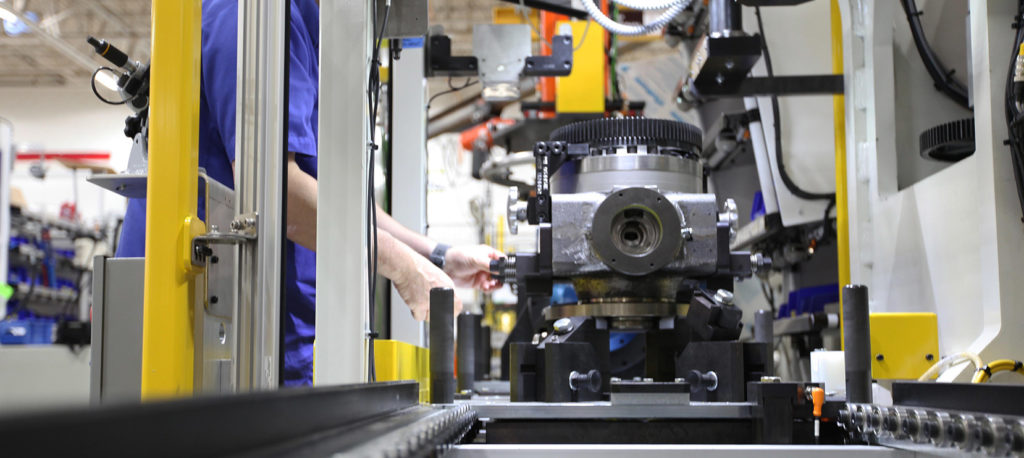 Midwest Engineered Systems is known for producing automated assembly systems expressly for the non-automotive drive train market. Our systems are designed and built to handle the higher mix, lower volume production environment, but still retain the high degree of efficiency and quality found in the higher volume automotive operations. Whether the need for automation of singular work cells or entire production lines, MWES is highly experienced in delivering the highest-quality systems that meet or exceed our customer's needs.
Sometimes the road to automation needs to happen in stages, especially for complex products with multiple versions. MWES understands this. We have experience analyzing entire production processes and building roadmaps that can stage the process over a longer period of time. These staged approaches begin with developing automation cells for certain processes with an eye toward interconnecting at a later date or when more convenient for the firm. This can reduce risk exposure while proving efficacy. These two aspects together are instrumental in driving executive buy-in.
When there isn't enough volume for automation or the number of product variants is too high, a human workforce is the best way to go. MWES is also experienced in the design and manufacture of predominately manual production systems for assembling transmissions, transaxles, switchgears or differentials. Whether new or upgrading existing manual processes, MWES can integrate leading-edge technology with space-efficient layout planning and best-in-class ergonomic design to arrive at a production system that streamlines the current process while increasing throughput.
If your firm is considering automating a production operation, or only a portion of it, contact Midwest Engineered Systems today.
Building the future of manufacturing, together
The Future of Manufacturing