Automated Assembly Line with AGVs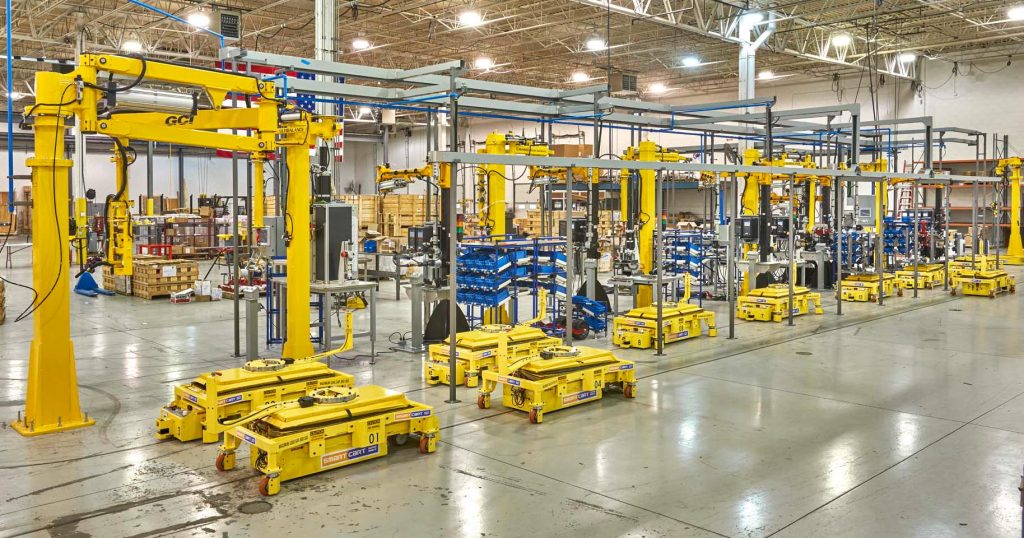 Midwest Engineered Systems built a complete row unit assembly system that utilizes AGVs for an agriculture equipment supplier.
Our customer contacted us to build an assembly line for a new product with world-class operator ergonomics that increases assembly efficiency while delivering comprehensive quality tracking. The goals of the project were to increase the throughput with fewer operators, without causing additional physical stress.
Cycle time analysis, pre-build testing, and evaluations of various material handling techniques were reviewed. The Pros/Cons for various paths were reviewed with the customer and eventually led us to the AGVs.
After a full evaluation of the project's challenges and goals, Midwest Engineered Systems provided the customer with a complete assembly solution, which included:
Jervis Webb Smart Cart AGC System – 12 smart cart system supports parts on each unit and automatically travels from station to station. The carts adjust in height between stations based on the height of the next operator and the work zone of the assembly. The carts are set to travel on magnetic tape and are equipped with safety scanners. Each of these carts is also equipped with a 'lazy Susan' like device that allows the part to be accessed from all sides without the operator moving
GCI Load Balancing Manipulators
Atlas Copco Torque Tools
Schmidt Presses
Loading Station – Heavy part loading station with a supermarket based loading of subcomponents
Assembly Stations – Lift-assist mechanism for torque tools with angle versus distance feedback for quality control
Operator Hand Tool Stations – Programmable tool stations verify operator assembly sequence when the tool is removed from the cradle
Part Unload Station – Quality checkpoint with large operator assist
Controls System – PLC-based control infrastructure controls the motion and path of the cart while verifying the correct assembly sequence and fastener torque control for each assembly
Safety Features – Operator push buttons, control system interface, safety interface, integration with AGV Smart Cart system. Safety system engineered with factory safety coordinator reference ISO standards and Factory Mutual for the safest working environment
Process Testing and Install – All equipment was set up in the MWES facility for production trial runs and testing before installation. Final runoff testing was conducted at the customer's site to ensure the system met all requirements
The final assembly line system provided the customer with a number of benefits. Those benefits include an increased production rate, a 50% labor reduction, increased quality and consistency of the finished products, and The Muri, Muda, & Mura standards for ergonomic and wasted motion implementation. This all culminates into an intuitive and logical assembly process that reduces training time and process verification ensures a quality assembly every time.
Midwest Engineered Systems has a wide range of experience in building assembly lines utilizing AGVs. If you're looking to improve your assembly line throughput, we have the knowledge and experience to make the project a success.
Contact us to learn how Midwest Engineered Systems can automate even your most complex and challenging operations today!
Innovation Through Automation
A leading agricultural equipment manufacturer.