Flower Pot Edge Rolling Machine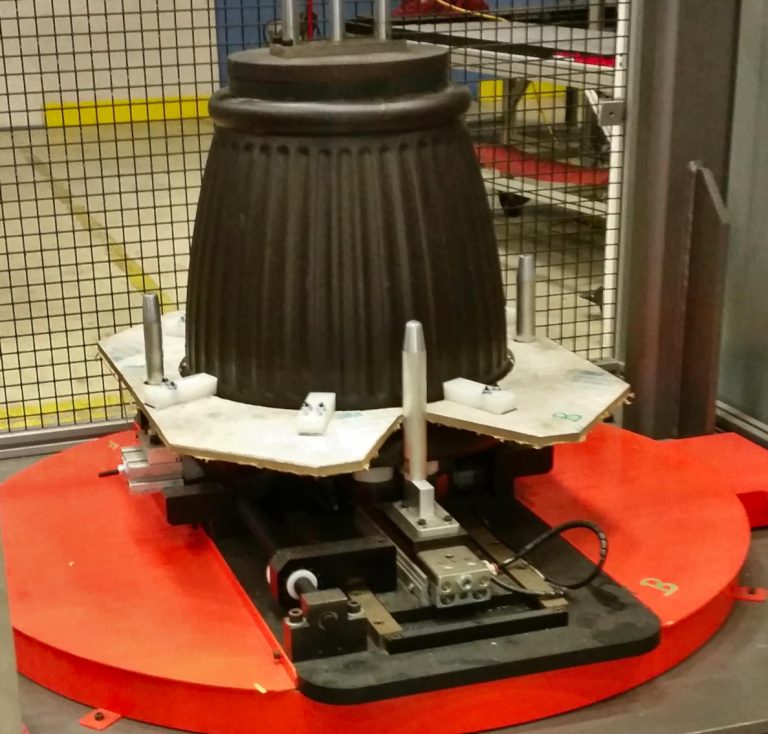 A firm came to Midwest Engineered Systems looking to improve its plastic blow-molded flower pot manufacturing process with a new custom-designed machine.
One of the final steps in manufacturing the flower pots required the edge/lip, at the top of the pot, to be rolled inward.  The machine had to accommodate four different-sized pots and requires an operator to manually swap the pots in and out of the machine upon completion.
MWES designed and built a turn-key automated machine that would take the blow-molded flower pot and rotate it around on a turntable.  As the pot rotates, clamps would press the top edge of the pot forcing it inward to create a rounded lip.  An operator would be required to perform part changeovers and to manually swap out the pots once completed.
The machine operator starts by swapping out the central support nest if a product changeover is necessary. After the support nest has been installed for the proper flower pot type, the operator places the flower pot into the support nest and clamps it down with a hand crank.  From there, the worker would activate the lip rolling cycle via the HMI interface panel. Forming clamps would force the pot's lip into the desired rounded shape as it rotates on a turntable 360 degrees. Once the lip rolling process is complete, the operator removes the completed flower pot from the machine and places it on a rack.
The turn-key flower pot edge rolling machine MWES provided this customer has an average lip rolling cycle time of 10 seconds from start to finish and drastically simplified a relatively difficult operation when performed manually.
Midwest Engineered Systems has a wide range of experience in building turn-key automation cells. If you're looking to improve your manufacturing throughput, we have the knowledge and experience to make the project a success.
Contact us to learn how Midwest Engineered Systems can automate even your most complex and challenging operations today!
Innovation Through Automation
A leading US-based designer, manufacturer, and distributor of high-quality resin products located in Chicago, IL.