Automated Knurling Machine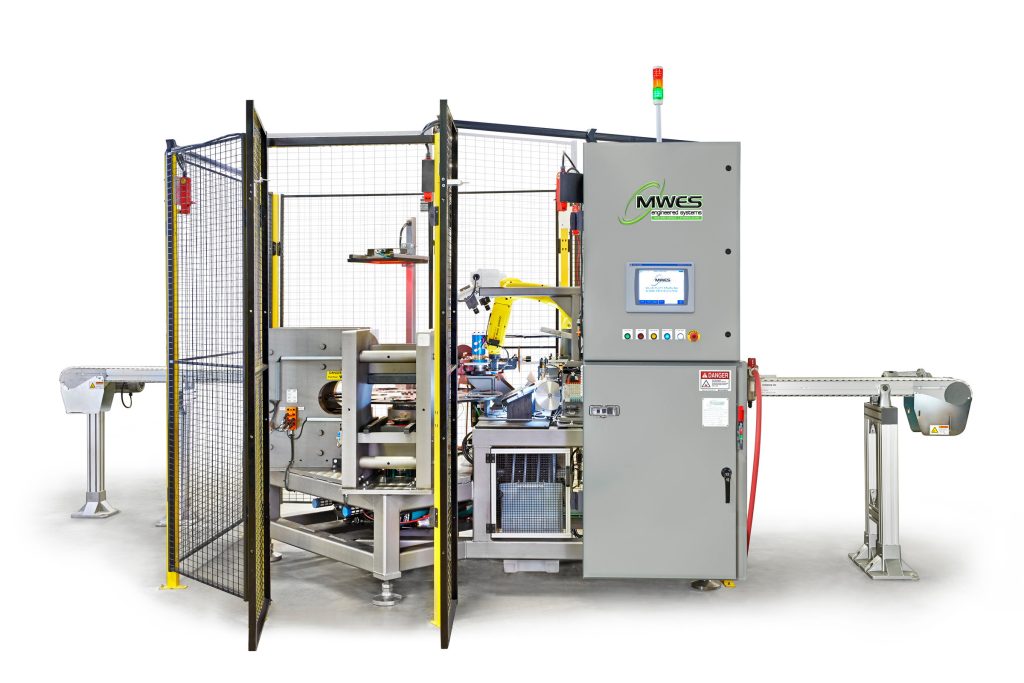 A drop-in machine that fully automates a knurling process for automotive parts.
A metal fine blanking company sought out Midwest Engineered Systems to robotically automate a valve plate knurling process.  Robotic integration is used to fully automate the knurling process for a high-volume automotive industry application.
The firm brought forth a long list of challenges that MWES had to achieve:
The machine automation system must be capable of being programmed for four different part numbers
Must achieve an automated process speed of one part every 2 seconds
The automated work cell must have a compact design to optimize floor space
The automated production system must be capable of flipping parts that are loaded up-side-down
It must have sensors to detect the radial orientation of a part on the in-feed conveyor to insure correct orientation in the dial table nest
The system must be able to operate within the high pressure and high forces exerted by the knurling process
Built-in quality assurance throughout the knurling and handling process. The automation system must also detect defects on the top and bottom surfaces of the part, such as:
Missing features
Slug marks
Missing holes
Missing or additional material
The automated production system must have the ability to log part failure information to an operator interface including:
Part number
Defect type
Quantity of each type of defect
Time and date stamps
After a full evaluation of the project's challenges and goals, Midwest Engineered Systems designed and built the customer a complete automated solution, which included:
Heavy-duty common base for simple installation and portability
Fanuc LR Mate 200iD industrial robot and R-30iB robot controller with Fanuc 2D robotic vision camera for part orientation identification on in-feed pick-up locations and placement on dial process system
Robotic End of Arm Tool with a magnetic gripper and sensors
In-feed Flip Station with two-position shuttle escapement
Two TOX 30-ton, air over oil, presses
Twelve positions, servo-driven, dial table
Three-position, servo-driven, out-feed flip station
Out-feed conveyor
Four-camera PPT vision system
The control system

Electrical enclosure
Servo motor control system
PLC with Ethernet IP communication
Robot to PLC interface
Operator HMI display
Arc flash compliance

Safety system and enclosure with components, programming, and layout per ISO 13849-1:2006 Category 3 safety guidelines and ANSI/RIA R15.06-1999 specifications
Complete electrical and mechanical engineering design
MWES provided complete robot, vision, PLC, and HMI programming
Complete electrical and mechanical fabrication, assembly, and system test
On-site installation, start-up, and acceptance testing
Technical training be MWES for operators, engineering, and maintenance
With the successful integration of MWES's automated knurling machine, this firm achieved the following improvements:
Increased productivity – the machine can run 1800 parts/hour
Less tooling than the previous machine for faster changeover between parts
Decreased maintenance – fewer moving parts to wear than the previous machine and less tooling to maintain
Increased reliability and up-time – Mechanically driven, hand-tooled, walking beam replaced with programmable 6-axis servo robot and two programmable servo-driven dial tables
Increased floor space – MWES Robotic solution requires 20% less floor space
Improved quality – Multiple sensors are able to detect failures and immediately notify the operator
Failure reporting – Automatic data logging and tracking of failures
Midwest Engineered Systems has a wide range of experience in building robotically automated knurling machines. If you're looking to improve your knurling throughput, we have the knowledge and experience to make the project a success.
Contact us to learn how Midwest Engineered Systems can automate even your most complex and challenging operations today!
Innovation Through Automation
A fine blanking metal stamping company.