Random Bin Picking & Part Loading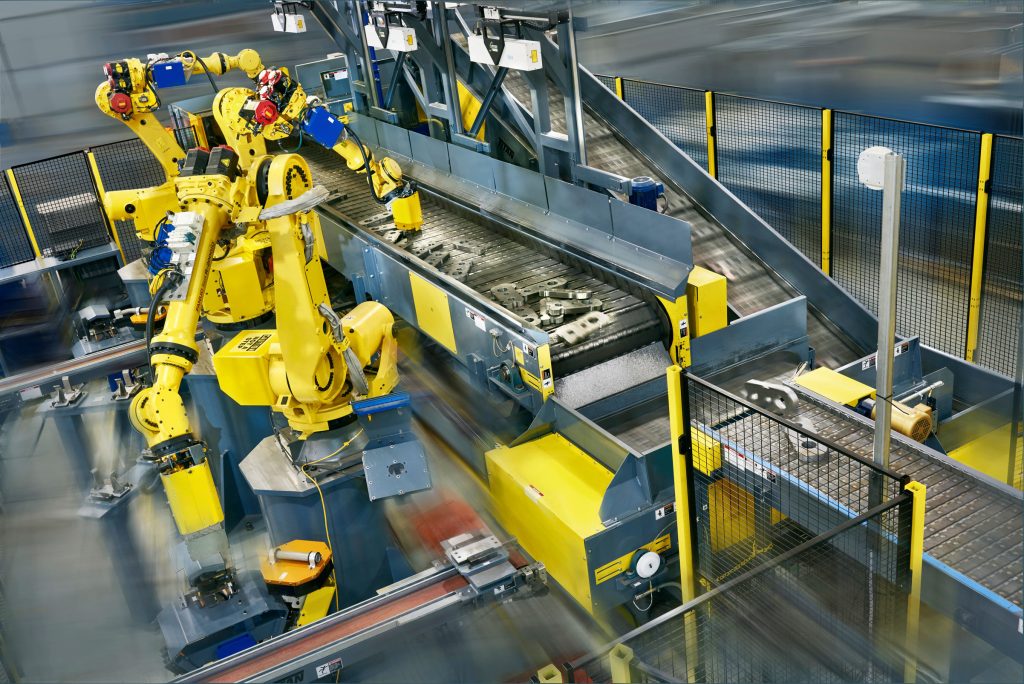 This equipment manufacturer contacted MWES to build an assembly line for a new product with world-class operator ergonomics, that increases assembly efficiency while delivering comprehensive quality tracking.
Our customer was faced with manually moving heavy parts from multiple bins and placing them onto a conveyor to begin a heat-treating operation. This labor-intensive job was automated to reduce labor injuries and increase throughput by 10%-20%. 
The goals of the project were to increase throughput with fewer operators without causing additional physical stress.
Midwest Engineered Systems provided this firm with a robotic random bin picking and conveyor part loading system. This conveyor system identifies the correct part, determines the location, and picks randomly placed parts from a bin using robotic automation and 3D vision systems.
Bin Conveyors – CDLR bin handling conveyors, protected for fork truck access, were installed to provide a steady flow of bins full of parts to the pick stations. This conveyor system also included egress of the empty bins without interrupting the bin picking sequence.
Robots – Three Fanuc robots were used with pneumatically actuated magnetic grippers for picking parts from bins. Then a secondary pick position was implemented to optimize the part orientation for correct conveyor load configurations. Fanuc has the advantage of Singularity Avoidance which makes programming of bin picking software easier.
Vision Systems – SICK PLB (Part Localization Bin) technology was mounted on a two-position slide for automated part locating and robot picking of two separate bin locations with one sensor. The SICK PLB technology identifies primary picks (easily picking parts from the bin), and secondary picks (moving parts within the bin for better placement) which improves picking throughput.
Transfer Conveyors – Transfer CDLR conveyors feature an orientation station to optimize robotic pick and place of parts for secondary robotic loading operations.
Cell Controller – OLDI ControllLogix Transaction Manager for Oracle obtains recipe data. Part tracking and recipe management of parts are processed through the system. Cell interfaces were implemented for all peripheral machinery.
Process Testing & Install – All equipment was set up in the MWES facility for production trial runs and testing before installation. Final runoff testing was conducted at the customer's site to ensure the system met all requirements
The final assembly line system provided the customer with the following benefits:
Increased production
50% labor reduction
Increased quality & consistency of the finished product
MURI MUDA MURA standards for ergonomic and wasted motion implemented
An intuitive and logical assembly process reduces training time and process verification ensures a quality assembly every time.
Midwest Engineered Systems has a wide range of experience in building robotically automated bin-picking solutions. If you're looking to improve your random bin-picking throughput, we have the knowledge and experience to make the project a success.
Contact us to learn about how Midwest Engineered Systems can automate even your most complex and challenging operations today!
Innovation Through Automation
The world's leading manufacturer of construction and mining equipment.