Die Cast Robot Tending Automation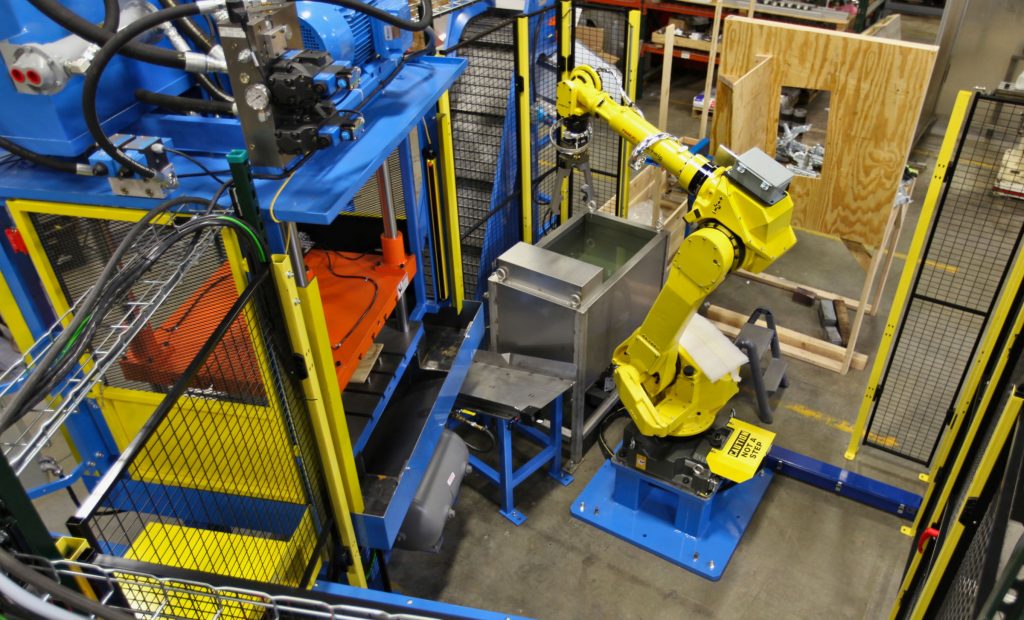 Midwest Engineered Systems provided a die-cast robot tending automation machine for a hardware manufacturer. 
MWES was asked to provide the customer with a FANUC robot to tend to a new Frech Die Cast Machine. The factory automation system was also tasked with loading the cast part into a Trim Press. In addition, MWES had quoted additional automation and services to make a complete automation system. The challenge of this project was to achieve an 18-second part-to-part cycle time.
After a full evaluation of the project's challenges and goals, Midwest Engineered Systems, as an authorized Fanuc integrator was able to provide the customer with a complete solution, which included:
Fanuc Robot – This includes M710iC/50 Fanuc robotic arm with R-30iB Mate Controller, DCS Position & Speed Check, ASCII Program Loader, Soft Float, and PC Interface.
Robot Accessories – The equipment includes a robot EOAT with a pneumatic gripper system, cable harness, and robot mounting base
Part Verification Stand– This includes a stand and sensor array for part presence after the extraction process has been completed.
Dunk Quench System – The equipment includes a welded stainless steel tank, heat exchanger, HP Pump, all necessary controls for the system, all necessary valves, and all necessary piping and filtering.
Cooling Conveyor, Scrap Conveyor and Chutes – Integration of conveyors and chutes into the system.
Motorized Turntable – Integration of a turntable allowed parts to accumulate. This meant the Die-Cast and Robotic Part Extraction process could continue if the operator were to step away for a few minutes. In addition, the Turntable part accumulator allowed for efficient use of floor space.
Safety Features – This includes black mesh safety guarding, safety interlock door access, RAG stack light and emergency stop button. The safety solution supplied met the requirements set forth by ANSI/RIA R15.06-2012.
Controls System – electrical enclosure, electrical panel, power transformers for 480VAC – 120VAC, over current protection, contactors, Allen-Bradley CompactLogix PLC w/Ethernet, Allen-Bradley Panelview Plus Compact 1000 machine interface, electrical control interface for all system I/O, conveyor motor starters or drives, wire way, terminal blocks, fusing, and safety system interface.
The final Die-Cast Fanuc Robot Tending Automation provided the customer with a number of benefits such as a more efficient and quicker part-to-part cycle time of 18 seconds or less with higher throughput overall. This also included higher-quality results, improved operator safety, improved error recovery, improved equipment maintainability, and improved scrap recovery, by having the MWES Scrap Recover System fed scrap directed back to the furnace. This system provided this firm a lights-out operation that improved Overall Equipment Effectiveness (OEE) and improved floor space utilization.
Midwest Engineered Systems has a wide range of experience in robotic machine tending automation. If you're looking to improve your machine tending throughput, we have the knowledge and experience to make the project a success.
Contact us to learn about how Midwest Engineered Systems can automate even your most complex and challenging operations today!
Innovation Through Automation
A hardware manufacturer based in New Hampton, IA.