INNOVATION THROUGH AUTOMATION
Indexing Standard Weld Cell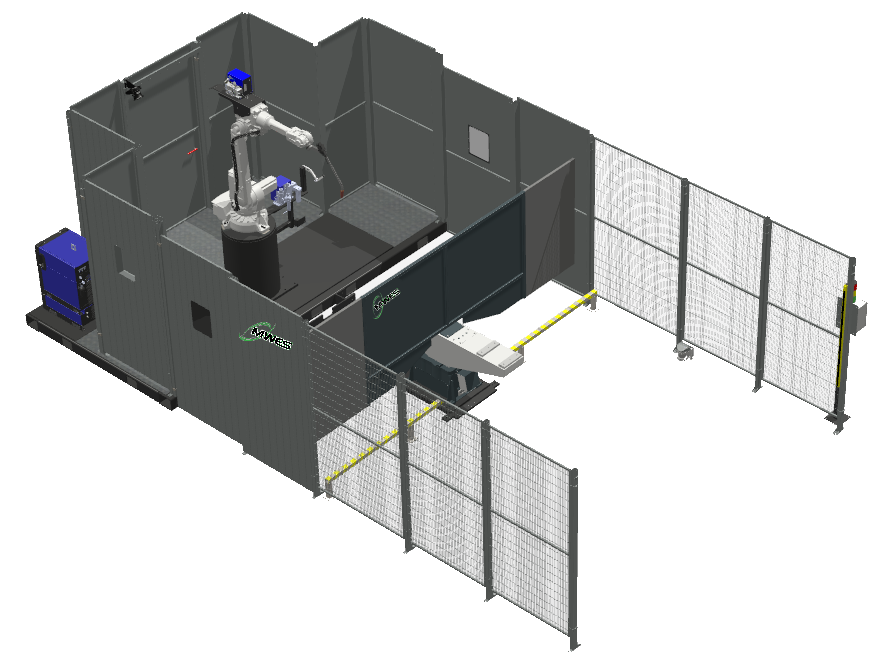 EASY-aRC Welding Services The Indexing Standard Welding Cell is an automated welding system that consists of a rotating table with two or more stations, up to three robots and a safety enclosure. The table rotates to bring the workpieces to the robot, while the other stations are used for loading and unloading. This allows for continuous welding without interruption. This welding cell can reduce cycle time, improve weld consistency, lower labor costs, and improve overall worker safety.
The standard indexing cell comes with a full range of safety features and can accommodate up to three robots
The loading zone of the cell is available in two variations: roll door or light curtain
Rapid changeovers and high productivity are made possible by adaptive software and the high-speed drives of the positioners
Positioners are offered in three variants and are designed to handle fixtures weighing up to 1,000 kg.
Two processing stations
Component manipulation via rotation and tilt axes
Load capacity up to 1,000 kg.
Station change via horizontal rotation
| | |
| --- | --- |
| Permissible load capacity | 500-1000 kg. |
| Free-turning diameter | 96-115 mm |
| High operating range | 900 / 1000 / 1000 mm |
| Min. station change time | 3.4 / 3.5 / 3.5 seconds |
| Max. station change time | 3.8 / 3.7 / 3.7 seconds |
| Repeatability | +/- 0.05 mm |
Curious which MWES Easy-Arc System is right for you?