CERTIFIED ROBOT INTEGRATOR
Work with the Leading Integrator of Fanuc Robots
We are dedicated to providing high performing, safe, and state-of-the-art automation systems to manufacturing companies. Our team's FANUC technical expertise is capable of designing innovative integrated systems cost-effectively to increase your operational efficiency.
Midwest Engineered Systems is a FANUC Authorized Integrator
As an Authorized Integrator for automation systems, Midwest Engineered Systems can analyze your requirements and provide a robotic solution that will improve quality, throughput, and productivity to give you the return on investment you are looking for.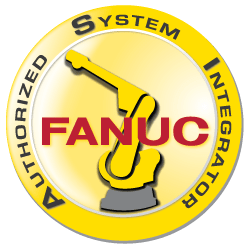 Building the future of manufacturing, together
No matter the process MWES has the solution
MACHINE TENDING
We can utilize FANUC's comprehensive line of machine tending robots to enhance your operation's quality and productivity.
PICKING / PACKING
Automation offers flexibility for packing or de-casing products.
MATERIAL REMOVAL
Robotic material removal, such as deburring, decreases cycle times up to 80% and have a return on investment of approximately 18 months.
ASSEMBLY LINES
Our engineers have experience integrating automated assembly lines using FANUC equipment from start to finish.
PALLETIZING
We utilize highly efficient, multi-zoned vacuum grippers and advanced servo-mechanical grippers to handle a wide scope of products and capabilities.
BIN PICKING
We have experience implementing successful FANUC robotic random bin picking systems and integrating them with the latest end-effectors, and vision systems.
ROBOTIC WELDING
FANUC Automated welding and weld positioner systems are customized depending on your metalworking needs. Whether your parts are simple, have complex geometries, or require heavy welding.
PRODUCTION LINES
We specialize in fully automated production lines featuring FANUC robotics that perform a variety of different applications in one system.