Vacuum Metalizer System Upgrade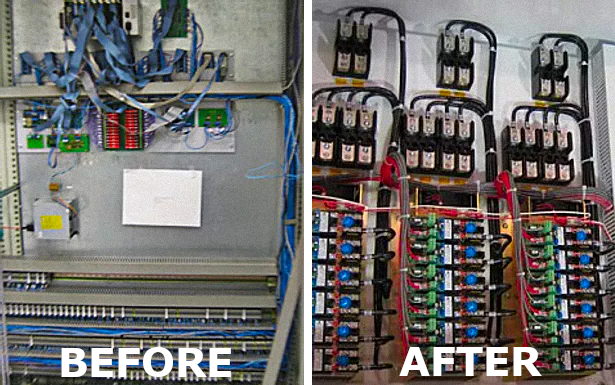 Midwest Engineered Systems provided an upgrade to an aging Vacuum Web Coating Machine that came from an OEM in Latvia.
This firm's 1990s vintage vacuum metalizer required extensive upgrading, with the goals of improving overall precision, performance and quality monitoring for the machine.
MWES had to replace any obsolete components that were in the system with new modern components, including:
Web handling DC drive system
Embedded Computer-based system and serial communication networks, with IO located in several locations
Custom-designed system for boat heater evaporation
Wire feed system
Interface to process monitoring and control systems
During the proposal stage, MWES performed a complimentary evaluation to provide several solution options to achieve the project's goals. With MWES's recommendations, as well as input from the customer, a solution path was chosen.
After a thorough on-site analysis of existing specifications, process data, schematics, programs, and interviews with process engineers, production managers and machine operations, MWES was able to execute a successful solution for our client. The comprehensive solution included:
New Bosch-Rexroth AC drive platform for all web handing drive sections, including new gearboxes, motors, and mechanical mounting and belt modifications
New Allen-Bradley ControlLogix PLC-based controls with Ethernet & Profibus for networking various system components
Recreated the original custom machine C++ code from scratch and implement it into the ControlLogix PLC
New operator interface system with Allen-Bradley FactoryTalk View server-based SCADA system with multiple "client" locations and touch screens
Created custom PLC control algorithms for control and monitoring of the boat heater control system
New Danaher Micro-Stepper drives for precision wire feed networked to the PLC
Integrated existing Pumping System controls onto the operator screens with visual and intuitive interfaces
Pre-shipment testing at the MWES facility to minimize change-over downtime at the client's site
Electrical & Mechanical Installation at client facility with multiple shifts to minimize effects on production
System commissioning at the customer's facility
The final solution added new features and capabilities to the system that were not provided with the original OEM design. The equipment is more accessible for engineering, troubleshooting and general maintenance. Other enhancements are:
Wider speed range, 0.5 to 100 FPM, for expanding the list of coating processes and materials
Improved tension and winding control
Improved process parameter control and monitoring via a simplified operator interface platform
Support personnel have increased quality control through remote access to the system
Better flexibility for future machine modifications or additions
Additional operator interfaces include:

Sputtering System
Vacuum Gauge System
Chilled Water System
Midwest Engineered Systems has a wide range of experience in upgrading and retrofitting existing systems. If you're looking to upgrade or retrofit an old system, we have the knowledge and experience to make the project a success.
Contact us to learn about how Midwest Engineered Systems can automate even your most complex and challenging operations today!
Innovation Through Automation