Robotic Bottle Depalletizing System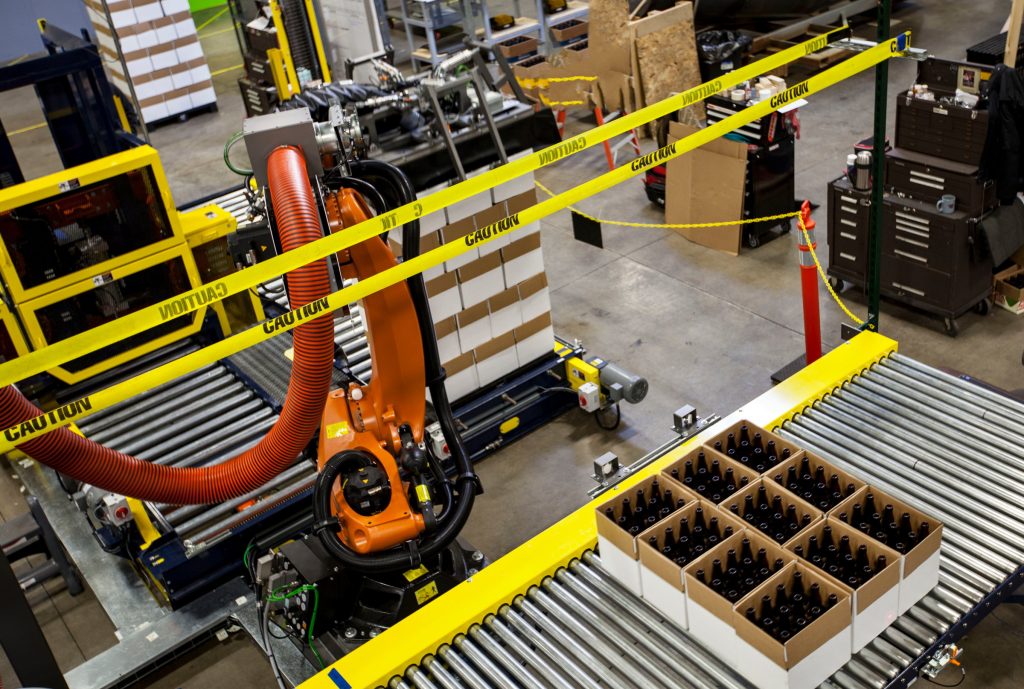 Midwest Engineered Systems provided a robotic depalletizing system for Widmer Brothers Brewing.
The initial bottle depalletizer was a semi-automatic system. Hand moving cases created a safety problem from repetitive motion and constant twisting. The speed of the line was limited by the existing depalletizing cycle time. Lastly, the incoming pallet loads were being delivered at half-height, when full height was desired.
After a full evaluation of the project's challenges and goals, Midwest Engineered Systems provided the customer with a complete solution, which included:
KUKA Robot – This robot was chosen because of a ceiling height restriction. The upper layers of the incoming pallet load needed to be moved under a low ceiling beam.
Pneumatic Pallet Pusher – The pneumatic pallet pusher extends the pallet load across the rollers to justify the pallet in the direction perpendicular to the conveyor flow.
Vacuum Gripper – The robot is equipped with a vacuum gripper that allows the robot to advance over the top of the pallet load and pick the top layer of cases.
Layer Separation and Case Conveyor – While the robot is picking a pallet load, the layer separation conveyor advances the layer of cases, one row at a time onto the case conveyor. The case conveyor pulls the case away from the layer separator and puts a gap between each box.
Vision System – As the cases travel down the case conveyor, they pass under a vision system that determines if the cases are short or long-side leading. Cases that are incorrectly positioned are then corrected.
The final bottle depalletizing system provided the customer with the following benefits:
Higher quality results
20% increase in production
Eliminated safety problems of back strains and joint/muscle damage
All pallet loads are delivered for palletizing at full height
Midwest Engineered Systems has a wide range of experience in building robot palletizing automation. If you're looking to improve your palletizing throughput, we have the knowledge and experience to make the project a success.
Contact us to learn about how Midwest Engineered Systems can automate even your most complex and challenging operations today!
About Widmer Brother Brewing

Craft Brew Alliance (CBA) is an independent, publicly-traded craft brewing company that was formed with the merger of leading Pacific Northwest craft brewers – Widmer Brothers Brewing and Redhook Ale Brewery – in 2008. With an eye toward preserving one-of-a-kind beers and brands by giving them an opportunity to shine and grow, CBA was joined by Kona Brewing Company in 2010. When Kurt & Rob Widmer founded Widmer Brothers Brewing in 1984, they didn't confine their brewing exploration to strict style guidelines. To this day, Widmer Brothers continue to create craft beers with a unique and unconventional twist on traditional styles that are award winning and please a wide range of craft beer lovers. Visit widmerbrothers.com to learn more
Innovation Through Automation
Widmer Brothers Brewing, an independent beer brewer based in Oregon.