Outboard Motor Assembly System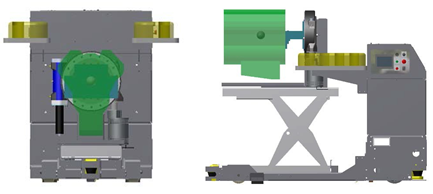 MWES provided that firm with 60 AGVs that would navigate a lengthy preexisting motor assembly process and would have to lift, carry and orientate outboard motors or long block engines throughout the build cycle. 
Incorporating automation into preexisting assembly lines can be a difficult prospect. However, using autonomously guided vehicles (AGVs) can eliminate the need to design and build complex conveyor systems.  A firm came to us in order to design an assembly process that utilized AGVs in order to index long block engines and outboard motor assemblies from one workstation to the next.  The AGV had to follow a defined path and advance into each workstation while communicating with the assembly PLC for a quick and safe transition.
The AGVs would continuously communicate with a central assembly PLC that would track the location and assembly progress of the part.  Extensive safety systems are also utilized by the AGVs when crossing aisles or entering and exiting a work cell.
The features MWES provided for this system:
Battery charging stations are located along each assembly line, such that each AGV would pass over them during each build cycle loop.
A final assembly hot test is performed on the outboard motor by the AGV lowering it into a test tank where it can be full-throttle tested with a test prop.
Repair areas are used by the AGVs when a unit goes through a test cell and repairs become necessary to the unit in order to proceed with the final assembly.
A carousel with fixtures allowing height variations for each operator at each operation was also provided.
Using Automatic Guided Carts afforded this firm an improved assembly line throughput with a production rate of 12 jobs per hour with a cycle time in each station of 5 minutes.  Being an autonomous solution allows this firm a safer and more productive assembly process with minimal human intervention.
Midwest Engineered Systems has a wide range of experience in utilizing autonomously guided vehicles (AGV) in assembly line environments.  If you're looking to improve your assembly line throughput with AGVs, we have the knowledge and experience to make the project a success.
Contact us to learn how Midwest Engineered Systems can automate even your most complex and challenging operations today!
Innovation Through Automation
A marine engine manufacturer based in Wisconsin.