INNOVATION THROUGH AUTOMATION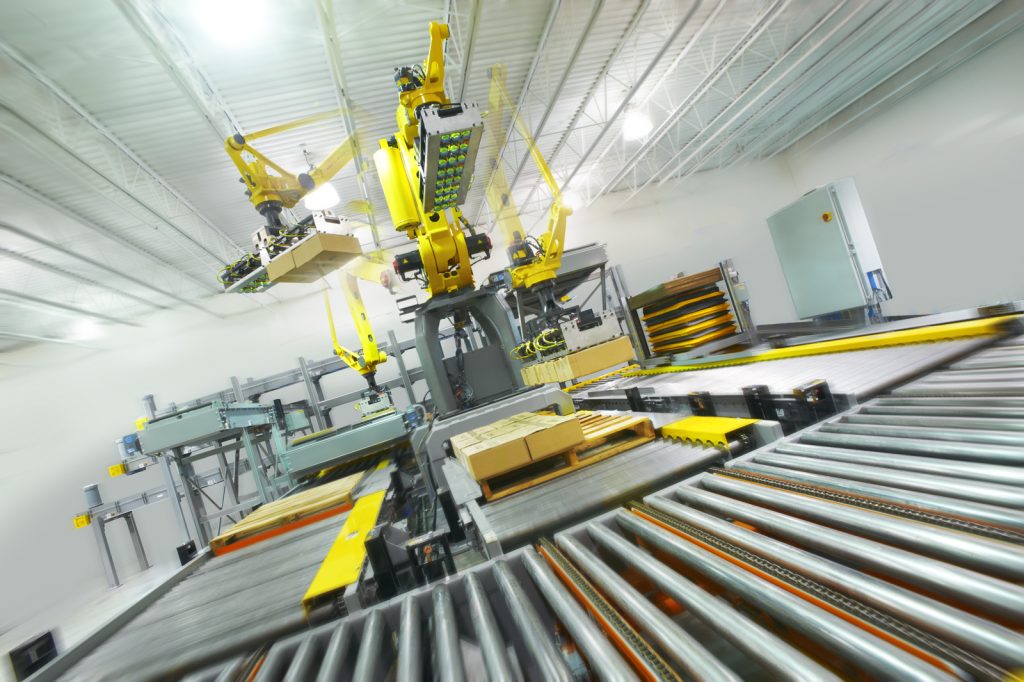 MWES' Automation Solutions
Automation has become a pillar in today's production environments.  With the physical demands required of material handling work and the lack of highly skilled labor to perform challenging work such as welding operations, many businesses are turning to automation technology in order to grow their operation.  From palletizing to case packing to machine tending, MWES has the experience and knowledge in providing integration of a wide range of complicated automated solutions.
Palletizing Automation
The palletizing systems MWES provides customers offer them increased consistency and throughput in pre-existing production operations. In most circumstances, these robotic palletizers can utilize the existing space that manual operations currently inhabit.  If required, MWES can custom design a robot palletizer that will fit the needs of any business. Learn more…
Depalletizing Automation
MWES develops efficient depalletizing automation solutions for customers large and small.  Our systems can integrate directly into large-scale routing systems for virtually any small to medium business that would rely on manual labor. Learn more…
Automated Guided Vehicles (AGVs)
AGVs handle the logistics of moving materials around a production floor safely and reliably. MWES knows how to integrate this form of automation in ways that offer greater throughput and speed, all the while providing a safe production environment. Learn more…
AS/RS Buffer Systems
Buffer systems provide automation solutions to manage materials and orders inside a production environment.  The custom AS/RS solutions MWES designs can be used to facilitate order kitting and job staging. Learn more…
Case Packing Automation
MWES builds turn-key, drop-in case-packing solutions that will reduce the reliance on workers to manually fill cases.  This automation solution provides our customers with case packing that is more consistent and reliable than manual labor. Learn more…
Welding Automation
Robotic welding offers many distinctive benefits over manual welder operations to businesses large and small.  The robot welding automation MWES provides our customers offer them increased productivity, greater repeatability and better adaptability.  All the while limiting weld distortions, reducing sizing errors and lowering overall production costs. Learn more…
There are many different parts that make up a fully automated production line.  From conveyors to move the material in and out of the work cell, to vision systems checking the placement and quality of the parts, to the robots that actually manipulate the material.  These systems have to work in perfect harmony in order to produce quality results.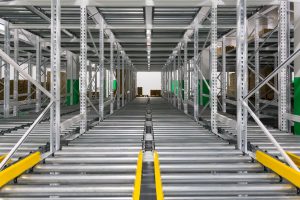 Conveyance forms the backbone of any large-scale production line or material handling operations.  Conveyors can integrate with many automation products that require an infeed and outfeed of materials.  Some of the most common conveyor types are steel belts, slider beds, chain-driven rollers and MRF sorting lines.  Each of those conveyor types has specialized applications for their use. Learn more…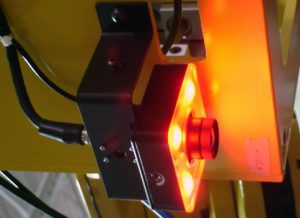 Vision systems are an important part of any automation solution.  This technology ensures that material is identified and handled correctly by automation technology.  It also keeps track of a number of metrics when the material is handled by automation.  Such as positioning, conveyor tracking, weld inspection, part identification, palletizing patterns, random bin picking and so on. Learn more…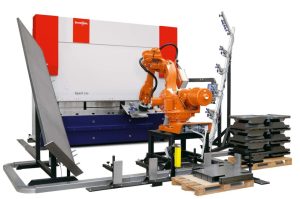 Robots handle the heavy lifting of any automation solution. They are responsible for manipulating and transferring the material, or in some instances, performing the manufacturing operations on the material.  Robotic automation is used extensively in systems that operate with welding applications, machine tending, case packing, bin picking, material handling, palletizing and depalletizing solutions. Learn more…
The robotic automation products that we provide our customers utilize the latest in vision systems, end effectors, motion controls and control software.  From custom-designed work cells to integrating automation products into an existing manufacturing line, MWES has extensive knowledge and experience with integrating all types of robotic automation technology.
Common Types of Robots
There are a number of differing types of industrial robots on the market today.  Each type of robot has a particular application that best suits its range of capabilities. Learn more…
Articulated Robots
Industrial articulated robots are the workhorse robots behind most industrial factories and large warehouse operations.  These robots have the versatility to perform nearly limitless functions, due to their interchangeable end effector and robust programming.
Collaborative Robots (CoBots)
Collaborative robots are designed with extensive safety features that allow them to operate in close proximity to human workers.  This close-knit interaction allows this robot to operate in smaller spaces, by forgoing traditional safety equipment and fencing.
Cartesian/Gantry Robots
Gantry robots operate on a two-axis overhead structure.  This type of robot allows for automation applications that include, palletizing and depalletizing, laser cutting and scribing, material placement and much more.
Cylindrical & Polar Robots
These two robots have an extendable arm that sits on the top of a shaft.  The difference between them is the arm on cylindrical robots moves vertically on the shaft.  Whereas with polar robots, the arm stays fixed at the top of the shaft and rotates 360 degrees and moves up and down.  These robots are ideal for delicate material handling.
Selective Compliance Articulated Robot Arm (SCARA)
SCARA robots' primary focus is on applications that require lateral movements. This allows the end effector to move only horizontally making them useful when working with level surfaces.  A common application for this robot is in the machines that produce semiconductor wafers.
Delta Robots
Delta robots are known in the industry for their ability to handle small, precise motions.  This design allows these types of robots to work with more than 100 parts per minute.  These robots are much faster at picking, placing and sorting parts than with manual labor.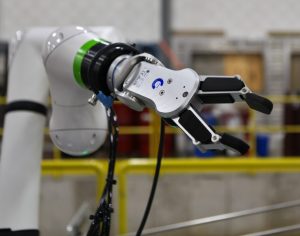 End effectors, also commonly known as End-Of-Arm-Tool (EOAT), are basically the hands of a robot arm. These end effectors can be made up of a combination of grippers, sensors, vision systems and custom material processing tools.  The options and interchangeability are endless with all the features currently available.  Tool changers are another common feature of an end effector.  These allow the robot to quickly switch out its EOAT autonomously without human intervention. Learn more…
Robotic automation is rapidly becoming a crucial component of an already evolving world.  The automation products Midwest Engineered Systems provides can elevate your business to new heights.  Contact us today if your business is looking to expand its production capacity or to move away from the rigors of a manual labor workforce.
Building the future of manufacturing, together
The Future of Manufacturing