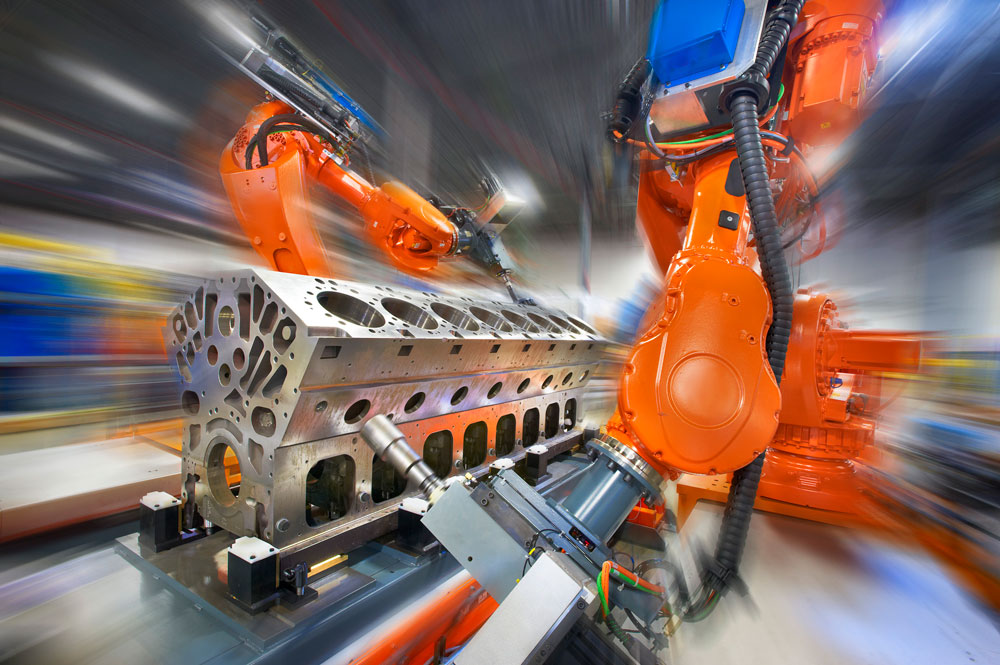 Midwest Engineered Systems built two large automated deburring systems for an engine manufacturer. This system uses two robots to deburr and polish specific features of a large 3500 hp engine block. 
The challenge was to implement two robotic systems that could each produce 7-8 engine blocks per day, minimize operator intervention, decrease the time in the machining center, and increase the quality of the product's finish.
After a full evaluation of the project's challenges and goals, Midwest Engineered Systems provided the customer with a complete solution, which included:
Conveyor Systems: Automated conveyors are used to move the engine blocks into the fully enclosed robot deburring/polishing station, and then forward them to the inspection station.
Two ABB Robots: Two ABB robots work on the right and left sides of the engine block part in unison. The robots use touch sense, laser distance finding, and precision fixtures to locate and find the exact location of the part. These offsets are then sent to the robot to frameshift in preparation for deburring.
High torque / Volume deburring and Polishing Spindles: The 10 hp servo-controlled spindles on the robot provides extreme flexibility with torque and RPM for a large variety of brushes, carbide insert, and ceramic abrasive tools.
Tool Changing Station: The tool changing station is equipped with drawers and shelves to store multiple tools required for each of the deburr stations. The drawers were designed for an operator to replace tooling while the system is in operation. RFID tags present information to the robotic system to identify and compensate the tool based on the results of the tool setter. The robots move to this station to load the correct tool into its spindle before the deburring operation begins. The system also verifies break and wear characteristics after each operation before the tool is loaded back into the storage system.
This firm benefitted from the following:
Increased production & now able to produce 7-8 finished parts per day, per robot system
8 hours of operator involvement has been reduced to 2 hours for inspection
Machining center cycle time committed to deburring has been reduced from 4 hours to 20 minutes
Increased quality & consistency of finished product
Able to remove labor from a dangerous work environment
Midwest Engineered Systems has a wide range of experience in building robot automation. If you're looking to improve your manufacturing throughput, we have the knowledge and experience to make the project a success.
Contact us to learn about how Midwest Engineered Systems can automate even your most complex and challenging operations today!
Innovation Through Automation
The world's leading manufacturer of construction and mining equipment based in Deerfield, IL.