CNC Lathe Automation System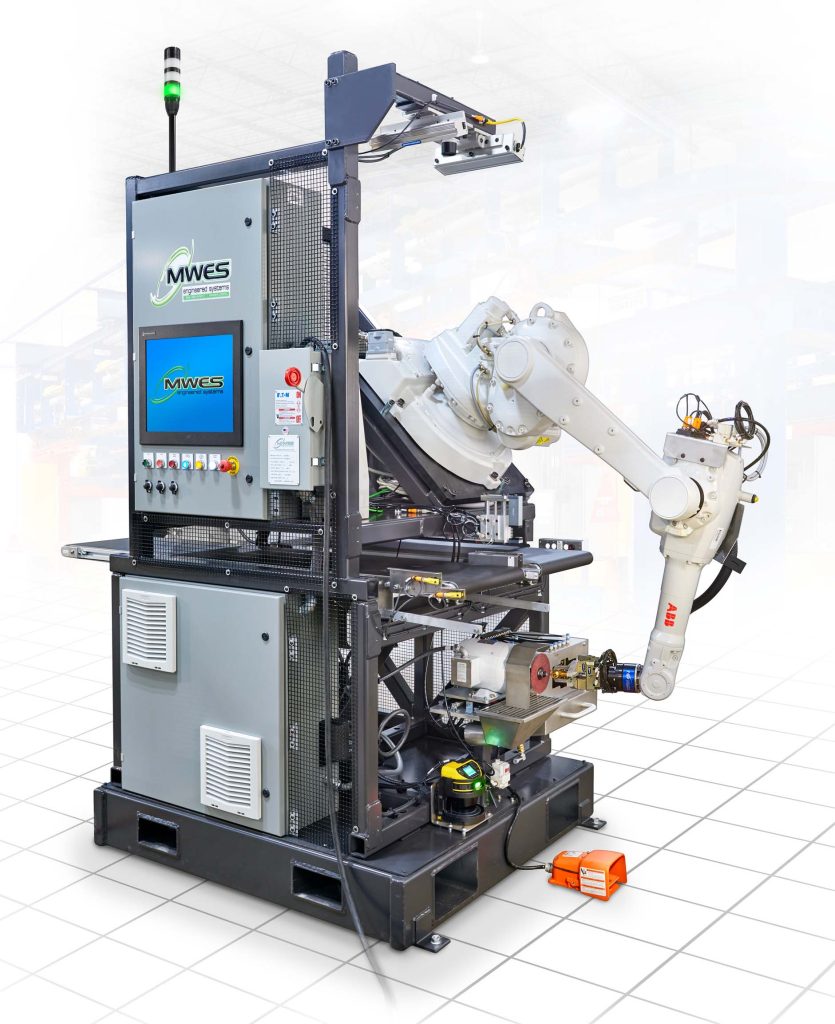 This firm was looking to eliminate the need for hiring skilled workers, by automating their CNC lathe process, therefore only requiring minimal human interaction to perform the lengthy machining process.
Adding a robotic machine tending automation to a pre-existing CNC lathe process can streamline and improve machining efficiency, where skilled human labor would otherwise be required.  By going with robotic machine tending, this firm eliminated the need for hiring skilled workers and enhancing a process that requires only minimal human interaction to perform the lengthy machining process.
MWES designed and built an automation system that works with the Okuma line of CNC lathes, by using a robot to pick the raw parts from an infeed conveyor and place the part into the CNC lathe. Once the part is loaded into the lathe the operator selects the program from an HMI to begin the machining. The part is then removed from the lathe by the robot, and the part is put through final cleaning and placed back on the outfeed conveyor.
The system begins when the operator sets up the lathe tooling and program for the fitting being run. The operator then loads the infeed belt conveyor with the raw parts/forgings that are to be machined. They then select the part number or program to be run on the HMI and initiate the machine cycle. The vision system checks the raw parts on the conveyor for location and orientation. The robot then picks the raw part off the conveyor with the gripper and moves it to the lathe once the door has automatically opened. The raw part is placed inside the lathe where it is gripped by the chuck jaws. Once the robot has exited the lathe, the door closes and the machine cycle begins.
Once the machining is complete, the robot retrieves the machined part from inside the lathe and then moves it to the blow-off station where any debris is blown off the part. After completing that, the robot then moves to the deburring station where the part is manipulated to perform the deburring process. Once complete, the part receives another round in the blow-off station, before being placed onto the exit conveyor where the completed part is then retrieved by the operator.
The CNC lathe automation system MWES built for this firm allowed them to automate a process that required skilled labor to perform. The final product improved the overall cycle time and reduced labor that would otherwise be required to perform this job.
Midwest Engineered Systems has a wide range of experience in building robotically automated machine tending systems. If you're looking to improve your machine tending throughput, we have the knowledge and experience to make the project a success.
Contact us to learn about how Midwest Engineered Systems can automate even your most complex and challenging operations today!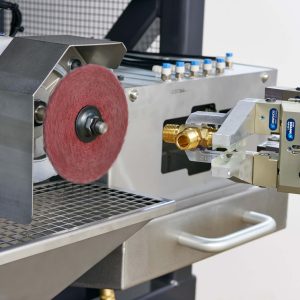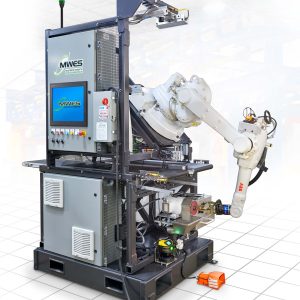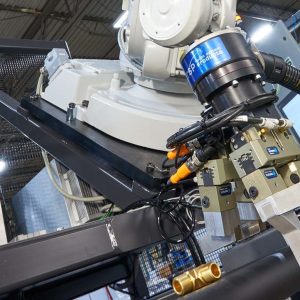 Global fluid fittings manufacturer