Plasma Cutting Robot Cell Upgrade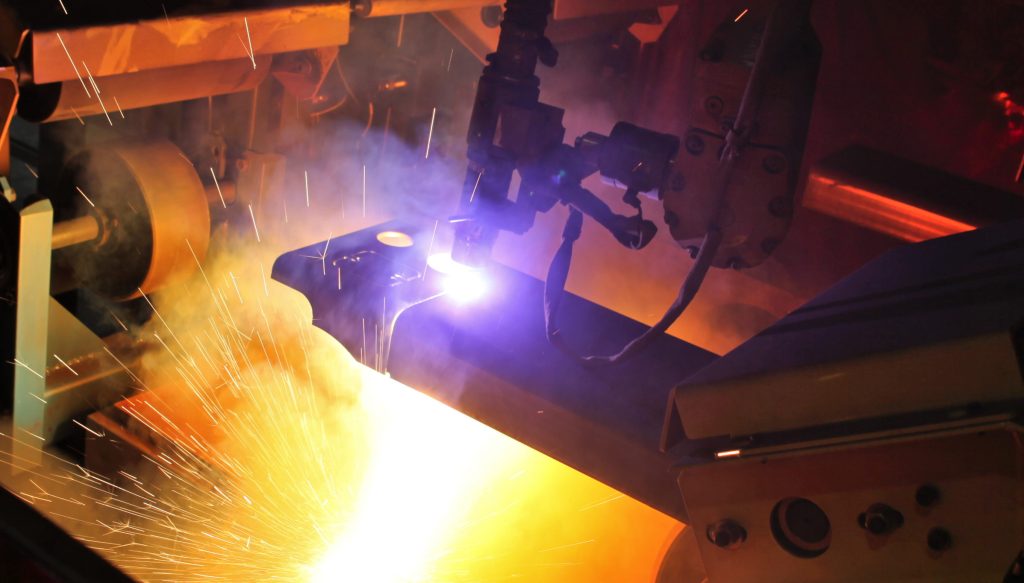 A robotic base rail plasma cutting system upgrade.
A firm came to Midwest Engineered Systems with the desire to upgrade an existing base rail plasma cutting operation, while incorporating it into an existing roller conveyor line. When an existing robotic automation system doesn't have the capabilities to perform newly developed tasks, simply upgrading components of that system may be all that is required. The base rail plasma cut had to be accurate within 3mm and the quality had to be visually smooth with waviness averaging around 1.5mm in depth.
MWES designed and built an upgraded automated robot plasma cutting cell that would perform all the necessary cutting operations on the steel base rails.  The robot cell would use an ABB IRB2600-20/1.65 Type B Robot with a Hypertherm XPR300 Plasma Cutting System and a Binzel CAT-3 Torch Mount XL.  The cutting operation would accommodate the cutting of at least three different thicknesses of the rails. 
The robot is mounted on an overhead support structure and controlled by an Allen Bradley ControlLogix PLC and PanelView HMI.  MWES also replaced the drive wheel and clamping system, as well as the Velocimeter redundant rail position sensors. The base rail indexes into the plasma cutting cell via the inbound roller conveyor. 
Once positioned and the base rails clamped into place, the robot begins its cutting program. The robot first cuts a long, curved cut starting at the back edge of one of the flanges, and continues the cut over the top of the rail, and ends the cut on the opposite flange. 
Next, the robot cuts a pair of holes, side-by-side, on the top of the rail, along with cutting two slots. Finally, the rail indexes forward slightly where the robot cuts the end of the base rail off, just past where the previous cutting had been performed.  The cut pieces would drop into a scrap bin, while the final cutting would drop into a separate finished bin.
The robot plasma cutting cell upgrade that MWES provided this firm was a great cost savings to the customer. By simply upgrading an existing automation system, this customer improved their return on investment and reduced the overall time to delivery of the final system.
The flexibility of this plasma cutting system also affords that customer the ability to make future changes to the robot programming, allowing for alterations to the cutting pattern.
Midwest Engineered Systems has a wide range of experience in building robotically automated plasma cutting cells. If you're looking to improve your plasma cutting throughput, we have the knowledge and experience to make the project a success.
Contact us to learn how Midwest Engineered Systems can automate even your most complex and challenging operations today!
Innovation Through Automation
A steel components manufacturer.