Complex System Integration for Innovative Manufacturing
Custom
Engineering
Work with the Leading Integrator of KUKA Robots
We are an innovative leader in highly-technical system integration for manufacturing
companies. Our teams diverse experience and technical backgrounds, in conjunction with KUKA
Robotics state-of-the-art robots, have allowed MWES to complete complex automation projects
for manufacturers world-wide.
ASSEMBLY LINES
Our engineers have experience integrating automated assembly lines from start to finish.
PICKING / PACKING
Automation offers flexibility for packing or de-casing products
MACHINE TENDING
We have a comprehensive line of machine tending robots that can enhance your operation's quality and productivity.
MATERIAL REMOVAL
Robotic material removal, such as deburring, decreases cycle times up to 80% and have a return on investment of approximately 18 months.
PALLETIZING
We utilize highly efficient, multi-zoned vacuum grippers and advanced servo-mechanical grippers to handle a wide scope of products and capabilities.
ROBOTIC WELDING
Automated welding and weld positioner systems are customized depending on your metalworking needs. Whether your parts are simple, have complex geometries, or require heavy welding.
PRODUCTION LINES
We specialize in fully automated production lines that perform a variety of different applications in one system.
BIN PICKING
We have experience implementing successful robotic random bin picking systems and integrating them with the latest end-effectors, and vision systems.
Widmer Brothers Depalletizing System
VIDEO CASE STUDY
Midwest Engineered Systems Inc. is a
Official KUKA Robotics Systems Partner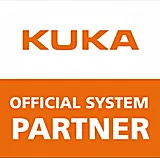 KUKA Systems 2014 Partner
Outstanding Growth Award Winner.
Midwest Engineered Systems was
honored with this award for having
the greatest percentage increase in
sales by a systems partner.
VISIT
US
W238N1800 Rockwood Drive
Waukesha, WI 53188
Mon-Fri: 8am – 5pm
Sat. & Sun: CLOSED