INNOVATION THROUGH AUTOMATION
A Remote Terminal Unit (RTU) is an industrial control system that is microprocessor-based. RTUs electronically connect various kinds of hardware to other control systems such as SCADA or DCS. These electronic units carry sensor data through input and output streams, which are transmitted to a centralized ICS through a control loop. RTUs also manage connections to remote or local controls, which is why they are known as remote units of Telecontrol or remote units of telemetry.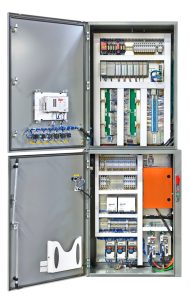 Some applications of RTUs are:
Offshore platforms and oil wells
Pipeline pump stations (water supply, wastewater collection)
Outdoor warning sirens
Natural gas networks and related equipment
Air Traffic equipment (ILS, GP, DVOR)
Environmental monitoring systems (emissions, pollution, air quality)
Contact Midwest Engineered Systems to learn how we can analyze your current production systems and develop an industrial control system that increases productivity and efficiency!
Building the future of manufacturing, together
The Future of Manufacturing