Selecting a Systems Integrator White Paper
There are many reasons you may be looking to hire a systems integrator to implement or augment an automation project. Your current team may just need extra help, or maybe you are looking for a total system design and build. Either way, selecting the right systems integrator will determine the level of success for your project.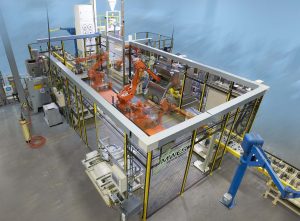 Before you begin your search, layout what is important for you and your project. Sort out the vital qualities your system will require such as: Is there a time constraint? or What is the project's budget? The important thing is to step back and review your company's priorities. Establishing this foundation will put you on the right track to making a great decision. Below is a basic checklist that should be considered during your selection process.
In-Depth Technical Expertise
A functional description that covers every detail of your project is helpful when making this decision. Seek an integrator who will cover details regarding how the system should react to every type of process fluctuation. It's important that the integrator is familiar with your application; they will be more apt to detecting constraints and risks.
Industry Knowledge
An integrator's knowledge and experience within your company's industry can make a difference. Having an integrator with inside industry knowledge on regulations, standards & certifications will make your project successful.
Business Partners
Although technical and industry knowledge plays a key role, there must be a sense that they will make a good business partner. A reputable systems integrator should be an unbiased partner and feel like an extension of your business, offering you the best solution to fit your automation application. Whether this will be a one-time project or if you're looking to establish a long-term relationship, having a strong business partner who communicates well with your internal team is beneficial in the long run.
A Clear Understanding
Establish an understanding of the integrator role in your project. There are many types of systems integrator, so verify their experience with all the aspects of your project, such as software programming & data collection.
Accountability
How does the integrator handle project management? Will you be assigned one point of contact throughout your project? These are good indicators of how responsive and accountable the integrator will be to your questions and concerns.
Training
Select an integrator who provides training for operators, maintenance & equipment managers. Having the proper training can avoid costly downtime and improve the quality of your system.
References
The firm's reference list is an invaluable resource in discovering competence. Note projects that closely match yours, as well as the range of overall project diversity. When reaching out to these references, ask simplistic questions that offer a great deal of insight such as:
Did the sales team understand your specifications?
Was their solution able to meet your requirements?
Was support offered after the install?
Were expectations exceeded overall?
Selecting your best match is possible with thorough research. Knowing what is important to you along with using this checklist can make selecting the right systems integrator for your project a reality. Midwest Engineering Systems has vast experience with system integration for automation, robotics and web handling applications.
Bridging the Gap Between Design & Manufacturing
A Guide to Process Development
Free Whitepaper
Midwest Engineered Systems Inc. provides integrated systems, custom automation machines, robotic solutions and production lines to manufacture globally. Our staff of over 75 engineers has technical expertise, a diverse knowledge base and has built thousands of integrated systems over the last 30 years. Additionally, Midwest Engineered Systems provides new process development, training, support, equipment maintenance and retrofits for all aspects of a factory's manufacturing equipment.
Need more information regarding your manufacturing application? Contact MWES to review your specific requirements, help you determine what equipment would be the most successful and to receive a custom quote.
Download our Guide to Process Development where we share with you how to successfully launch a new product or optimize an existing process!