Stepping up to automating manual case packing operations doesn't have to mean spending weeks installing equipment. MWES's turnkey case packer systems install quickly and easily. In most instances, systems can be up and running in a day, making the MWES case packer as 'turn-key' as they come.
As the entire machine is encapsulated within its own welded steel frame, the installation process comes down to securing the machine in its location and connecting power, air and Ethernet connection and the system is ready to go. Depending on robot configuration, MWES systems could even be installed quickly in cold room environments.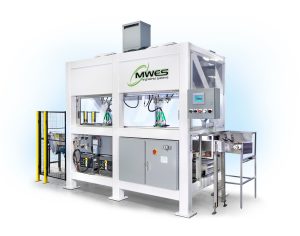 In terms of operation, the case packer's systems help guarantee a near-zero drop rate even while running high pick place speeds. Using our two robot configurations, the MWES case packing machine is able to pack up to 80 bags per minute with no drops. Systems can also be ordered with three integrated robots, allowing for packing speeds of up to 120 bags per minute.
To achieve this performance, the MWES case packer uses machine vision to locate products as they enter the machine and translates that information to the robotic pickers. Using a proprietary vacuum end effector, this system not only can be adjusted to handle more fragile materials, it's also excellent at addressing the varying topology of bagged products in less than precise belt placements. This allows for more precise placement into secondary packaging, as well as addressing changing pack patterns.
If you're looking to take the first step into automating case packing or have a product with unique specifications, contact us today for more information on our new standardized case packer systems or to talk about a more custom packaging application.